What are ship lifts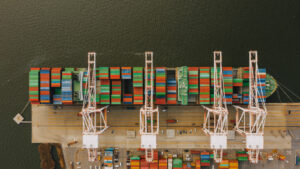 One piece of material handling equipment that is used to move loads within a limited range, horizontally or vertically, are ship lifts. They are used to lift floating objects.
Ship lifts are so-called cargo lifts. The term refers to a crane which consists of a cargo base, adapted to deploy goods at an angle by means of tendons which can be chain or rope.
All cargo lifts (and therefore ship lifts) are subject to technical supervision. Technical supervision are activities recorded in the Act of 21 December 2000, which deals with technical supervision. They are intended to ensure the safe operation and use of technical equipment. The technical devices that are subject to Technical Supervision are noted in the Order of the Council of Ministers of 7 December 2012.
Facilities subject to technical supervision include:
Cranes
Hoists
Ship lifts
Mobile platforms
Stacker cranes
Cranes
Equipment for the disabled
Escalators and moving walkways
Passenger and freight cranes
Lift trucks and industrial trucks
And:
Pressure cookers
mobile platforms
pipelines
Track cranes
loading machinery
cableways
Operation and maintenance of goods lifts
Freight lifts should be used in accordance with the operating instructions and operated in accordance with their intended use:
In order to ensure the safe use of the machine, the operator of this machine is obliged to ensure that the machine is serviced in accordance with what is written and required in Annex No. 2 to the Ordinance of the Minister of Entrepreneurship and Technology of 21 May 2019, on the issue of the mode and manner of checking the qualifications needed to operate and maintain technical equipment and the manner and method of extending the validity of certificates. Technical inspections should be carried out within the timeframes specified in the directive (Annex No. 2 to the regulation, the directive of the Minister of Entrepreneurship and Technology of 30 October 2018, concerning the technical conditions of technical supervision in the field of modernisation, operation and repair of materials handling equipment) unless otherwise specified by the manufacturer.
The user of the machine is to set up and keep a service log, where the maintainer records all the activities performed.
Each machine operated by the user should have an instruction manual available, based on the operating instructions.
Behind him freight lift The equipment is to be put into service, it must be registered and the person who will use it must obtain a decision authorising its operation, which is issued by the technical inspection authority. Before the competent authority issues such a decision, it carries out the following tasks:
Recognises the equipment, checks how it is labelled and its condition
All documents are checked and checked for correctness
Performs an acceptance test on the user
Checks that the equipment on the machine complies with the documentation as presented, on the site of operation of the machine
Ship lifts were mostly used in America, Asia and sometimes Africa. They have not become as widespread in Europe (despite their advantages over other shipbuilding equipment). The advantages of ship hoists include:
They take up less area than the docks
Short lifting time
Platform without side walls
Ease of repair and maintenance