OJT certificate course in the operation of stationary cranes
Gain qualification as a tower and high-speed crane operator
We are a company that organises courses to become a stationary crane operator and maintainer. With us you will improve your qualifications and increase your competitiveness on the job market. We will help you prepare for the UDT exam and become qualified to operate or maintain stationary cranes.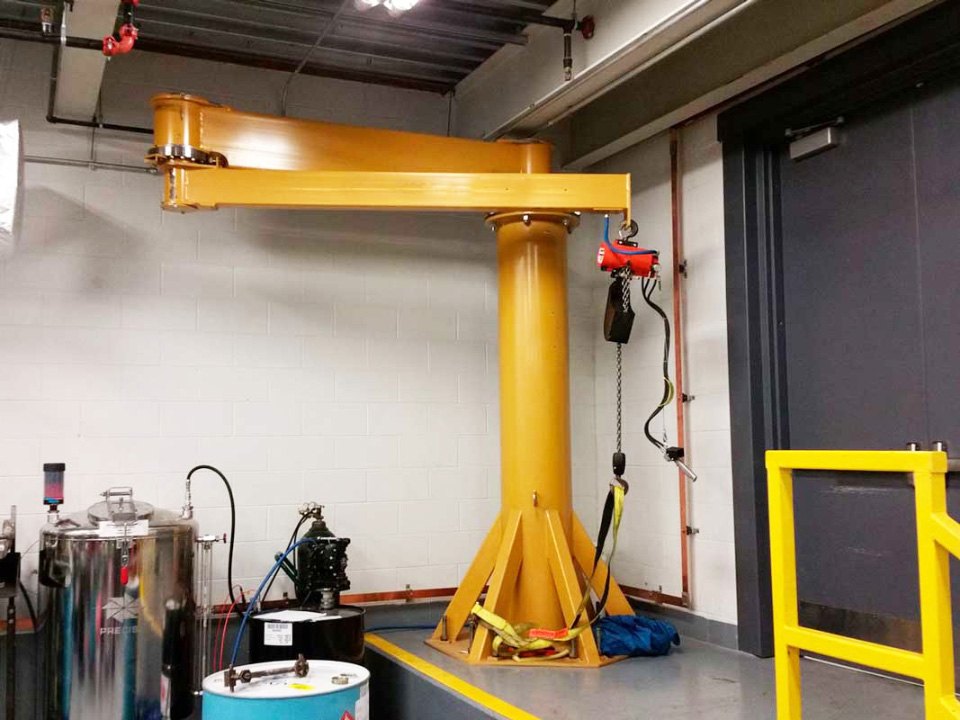 What does the training look like?
The course we are organising consists of two parts:
lectures - can be delivered online,
practical classes.
The scope of training includes:
information on technical supervision,
general information on cranes,
general information on transport and cargo,
operation of slings and auxiliary handling equipment,
construction of stationary cranes,
hazards when working with handling cranes,
operator responsibilities,
pre-work activities,
working area,
working safely with the machine,
performing work under adverse conditions,
operator's activities after work,
stability of the equipment,
safety devices and brakes,
control devices,
electrical, hydraulic and pneumatic equipment,
procedure to be followed in the event of an accident or mishap,
load capacity and workload group,
Health and safety rules when operating a crane,
various techniques of cargo transport,
assessment of the technical condition of the crane.
After the practical classes, the participant goes on to perform tasks under the guidance of our specialists.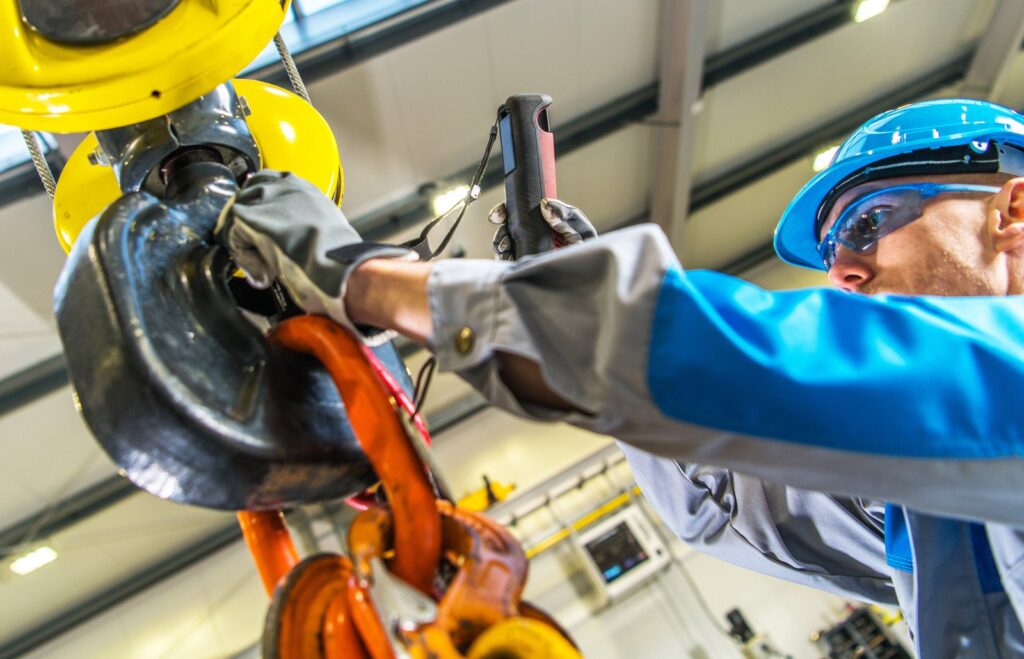 Timetable and format of classes
We run our courses in two models; open classes, which take place according to the schedule posted on our website, and as closed lectures, with a view to groups organised by institutions or employers. In response to our clients' expectations, we also have the possibility to conduct individual classes, taking into account the needs of the client. For closed groups, it is possible to hold the training in our branches, but we can easily agree on a different location for the training and conduct it anywhere in Poland and even abroad.
Why train with us?
We have been providing vocational training for many years,
we have qualified training staff,
provide well-prepared training materials,
we do a repetition before the exam,
we assist with the formalities involved in taking the UDT exam,
we have a favourable price offer for our courses.
Stationary cranes - brief description
These are devices otherwise known as workshop cranes. They are cranes that are designed to transport heavy loads over a limited distance. They are made up of a jib (arm), which is mounted on a pole or attached to a wall, and a hoist, which is the mechanism responsible for lifting the load up and down.
Stationary cranes make it possible to move loads:
through circular movement,
forwards and backwards (along the arm),
up and down (vertically).
Stationary cranes are used as workplace equipment. They also optimise production processes. They are often used by plants in need of handling equipment.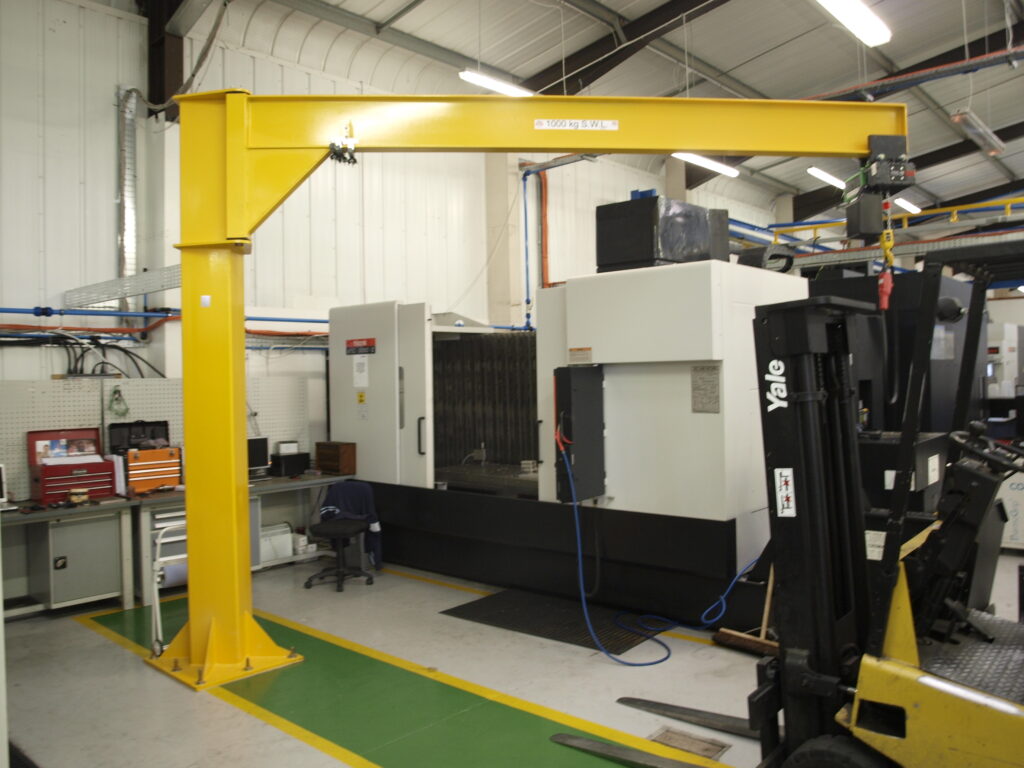 Qualification certificate
On completion of the training, the trainee takes an examination before a board of the Office of Technical Inspection. A positive result is the basis for issuing a qualification certificate. The validity of the stationary crane operator's licence is 10 years.
Conditions for completing the course
a state of health permitting work with stationary cranes (confirmed by a doctor of occupational medicine),
minimum primary/high school education,
coming of age.
Training price
Prices are set individually, depending on the number of participants and the date of the training. We organise open as well as closed trainings, please contact us by phone to find out the price.
Types of cranes and validity of authorisations
Stationary cranes - 10 years,
Rail cranes - 5 years,
Mobile and portable cranes - 10 years,
Mobile cranes - 5 years,
Floating cranes - 5 years,
Rail cranes 5 years,
Deck cranes - 5 years,
Tower and high-speed cranes - 5 years,
Railway cranes and on railway vehicles - 5 years.
We offer training for operators and maintainers of the above-mentioned equipment.
Find out about our other courses
With us you will also gain entitlements among others:
for other types of cranes,
for uplifts,
for forklift trucks,
for cranes,
heights,
Electrical,
energetic,
gas.
Questions and answers
How long are stationary crane licences valid?

The validity of qualification certificates for operating stationary cranes is 10 years.
Do you organise courses at the client's premises?

If the customer has the required equipment and has the conditions for training, we can, of course, organise training at their company. We are able to travel to the customer, no matter what part of Poland they are in.
What does the training look like?

Training as a stationary crane operator takes the form of theoretical and practical classes. We have experienced instructors on our staff who will prepare you for the UDT exam.
Do you also run other courses?

Yes, we are running altitude training, G1, G2, G3, from the operation of overhead cranes, forklifts, other types of cranes, aerial and scissor lifts and many more pieces of equipment.