De-icers
Our center specializes in organizing training courses for airport employees. We offer a course on how to operate a de-icer - a device used to remove ice from airplanes. Thanks to our classes, you can gain knowledge and skills in the use of this type of GSE (Ground Support Equipment) - devices and equipment for ground service of aircraft.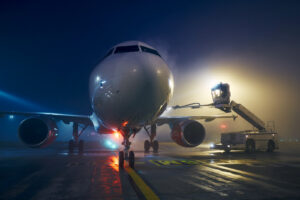 De-icers are commonly used equipment designed to carry out de-icing operations on airplanes. Its purpose is to remove snow, ice and frost from their surfaces. Appropriate chemicals are used that not only remove these substances that endanger flight safety, but also prevent their re-deposition for a specified period of time. Ice, snow and frost on an airplane reduce its ability to take off, as they create an uneven surface that disturbs the aerodynamics, which can even lead to a crash. Additionally, also larger pieces of ice can get into the engine or hit the propellers, which can also have similar effects. Therefore, de-icing is mandatory when the plane is iced at a standstill, and also prophylactically to prevent its icing in flight at certain temperatures.
The de-icing process is performed with the use of appropriate technical facilities - these are devices generating a mixture of glycol and water at an appropriate temperature or other substances with de-icing properties, which are used by employees in cost lifts. These lifts are operated by operators having appropriate entitlements.
Participants of our training for aviation personnel receive the necessary knowledge about the operation of devices used in the de-icing process, as well as the principles of occupational health and safety. Classes are additionally supplemented with practice. Our experienced instructors watch over the course.
Trainings take place on designated dates in our facilities. We also organize classes as closed trainings for airports. We invite you to take advantage of our offer!