Aerial platforms, scissor lifts and others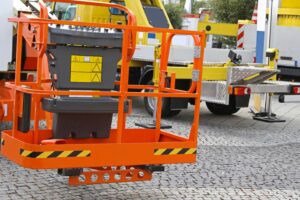 ERGON Personnel Training Center cordially invites you to training courses for aerial work platforms and scissor lifts and others. The goal of training is to obtain the necessary UDT qualificationswithout which the equipment cannot be operated. Construction, assembly or decoration work requires the use of equipment such as scissor lifts and basket lifts - training is therefore essential in order to carry out all activities safely and in accordance with the regulations. With us, you will find it even easier to obtain your licence! At our centre, we have been running courses for aerial work platforms and scissor lifts for years. We have already trained thousands of employees who, thanks to us, have passed their UDT exams without any problems and obtained the necessary authorisations. We only employ qualified lecturers and instructors who have a detailed knowledge of the regulations and how aerial work platforms work - our courses are therefore always full of valuable information that can be applied to subsequent daily work. Each course is divided into a theoretical and a practical part. The theoretical part covers technical inspection regulations, information on cranes, including lifts, their design and operation, and we also provide information on Health and Safety. As a result, we comprehensively prepare you to take the UDT exam in accordance with current regulations.
The use of lifts
Lifts are a group of devices that are designed to carry out work at heights. According to the classification to the group of devices referred to as mobile platforms we also include lifts, therefore the qualifications are necessary to operate them in accordance with the law. The most popular of them are aerial work platforms. Thanks to them, you can easily raise people, materials and equipment to a certain height to carry out construction, finishing, assembly, decorating, cleaning and other types of work.
The devices can be placed on wheels or cars - then they are called self-propelled or slow-moving mobile platforms. Due to their design, the devices are divided into articulated-arm, scissor and telescopic. To operate them, you need to obtain UDT I P.

Purpose of the training
The trainings are intended for people who are 18 years of age, have at least basic education and have a medical certificate that there are no contraindications to work as a device operator.
Our training on lifts provides the necessary theoretical and practical knowledge on the operation of devices in accordance with health and safety regulations and technical inspection regulations. After completing the training, the participant can take the UDT exam, the purpose of which is to obtain the appropriate qualifications.
We offer courses on lifts at competitive prices and with the possibility of receiving discounts for larger groups. We can also organize the course at any place and time according to the wishes of the principals. Due to the fact that our classes are always carefully planned and rich in theory and practice, obtaining qualifications after their completion is even easier.
We cordially invite you to use the services of the ERGON Card Training Center!