Construction machinery: excavators
What is an excavator?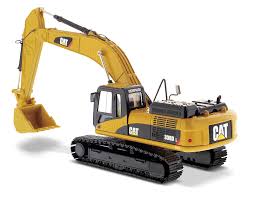 It is primarily a machine designed for earthworks. It is used to separate the spoil and load it onto transport machines or landfills.
What types of excavators are there?
The backhoe works mainly at the bottom of the trench. It is for this reason that excavators of this type carry out large-volume excavations. They cooperate with vehicles that transport the spoil, which position themselves at the height of the excavation crown or at its bottom.
a backhoe is working on the top edge of the excavation. It carries out excavations for buildings and other line excavations in places where it is not possible to introduce an excavator to the bottom of the excavation or where the plot area is small.
Grab excavator is mainly used for soil extraction from water, canal dredging, river bed. They are used in digging deep trenches of small diameters - well holes or for bridge pillars. They are equipped with a self-opening and closing gripper suspended on ropes, plunging into the ground under its own weight.
a dragline excavator, the excavation of which is carried out by a dragline dragged on lines on soils that are easily separated by their own weight and rope tension.
mini-excavators are used much more often than normal, heavy and very large machines. Thanks to them, you can work in hard-to-reach places.