How often should a review be carried out?
Every piece of equipment, even the smallest, needs proper maintenance, and this is no different for fire extinguishers, which, in order to function efficiently and fulfil their task, should be subjected to a proper inspection that meets all safety requirements.
The inspection should take place periodically in accordance with the manufacturer's operating and maintenance instructions for the fire extinguishing equipment in question - by convention we can assume that at least once a year. The inspection period for fire extinguishing equipment is usually six months, but due to conditions - external factors (e.g. high humidity) - of the room in which the extinguisher is kept, this validity may be even shorter.
What about the fire extinguishing agent? It should be replaced at least once every five years.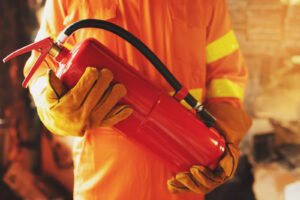 We recommend that the inspection and maintenance of fire extinguishers and hand-held firefighting equipment is outsourced to establishments specialising in this field, with staff trained in the safe operation and maintenance of firefighting equipment. There are also courses available on Health and Safety and UTB by training centres for: companies, schools, kindergartens, etc. In general, the inspection of firefighting equipment should be carried out wherever it is required, i.e. in spaces of potential danger: warehouses, production halls, offices.
Fire extinguisher inspection - maintenance of firefighting equipment includes:
periodic technical inspection of the extinguisher
inspection of fire-fighting equipment
carrying out both repair and maintenance work
dismantling and installation of fire-fighting equipment
replacement of the extinguishing agent once every five years
labelling of equipment
Each inspection concludes with the entry on an adhesive label of the information obtained after the maintenance work, these are:
company name and address
type of control carried out
date of last and next inspection
When do we carry out reviews?
So far we have only mentioned periodic inspections, however, there are also guidelines for having firefighting equipment inspected if: it has been put into operation, it has signs of mechanical/physical damage, the expiry date of its inspection is illegible, the seal affixed by the manufacturer (or maintainer) has been broken on any of the valves, in the case of extinguishers equipped with a pressure gauge, when the indicator is below the green zone.
Who carries out the reviews?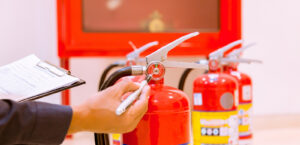 In addition to carrying out inspections of fire extinguishing equipment, people specialising in this field also have the knowledge to repair the extinguisher - to carry out a series of activities aimed at restoring the optimum functions of the equipment, for which knowledge of theoretical (technical) knowledge and possession of appropriate skills corresponding to the Polish Norms are required. Authorised extinguisher maintenance centres have staff who meet the above requirements, which is why they are most often entrusted with maintaining the equipment.
Polish Standards
All fire-fighting equipment, including fire extinguishers, is subjected to technical inspections and other maintenance activities on the basis of rules laid down in the Polish Standards - these rules include both maintenance requirements and instructions for use. Periodic inspection deadlines should be met to ensure the safety of those who could be affected by the risk of fire (at least once a year).