A course to prepare for work on aerial work platforms abroad (boom lift, scissor lift).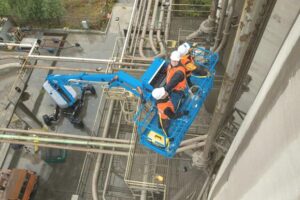 Obtaining a professional qualification before going abroad can be the key to getting a well-paid job with a short job search. Such specialists as mobile platform operators are - as in our country - in demand in construction, renovation and other industries. Aerial work platforms and scissor lifts are also used for work on oil platforms and in ports and shipyards. To be able to operate these machines abroad, it is often necessary to obtain additional entitlements. The Polish ones, issued by the UDT, are not honoured everywhere.
For those who would like to work in countries associated with the organisation OMHEC (Offshore Mechanical Handling Equipment Committee), i.e. the UK, Denmark, Norway and the Netherlands, we recommend a course to prepare you for certification. Obtaining this certification allows you to work as an equipment operator. Classes are held at a stationary location in Warsaw or remotely, in the form of e-learning.
Course on operating aerial work platforms (boom lifts) and scissor lifts (scissor lifts) abroad
The training has been prepared by experts from our centre, based on the standards set by the OMHEC organisation and the MEWP ISO 18878 standards, so that completing the training and gaining the certificate is recognised in the aforementioned countries.
During the training, participants gain knowledge on:
Construction and mode of operation of MEWP elevator components
Safety rules, taking into account working conditions on land and at sea
Foreign regulations for the operation of mobile platforms
Lift tests and strength and stability tests
In line with ISO and OMHEC guidelines, students also participate in practical classes where they learn how to operate the equipment and how to operate it safely.
Eligibility to work abroad
At the end of the training part of the course, an examination is organised for trainees: a theoretical and a practical part. If they pass, they are awarded the certificate necessary to apply for work abroad. The Centre also offers the possibility of issuing a Hot Work plastic card for an additional cost of PLN 300. The certificate is valid for 5 years.
Information on equipment that can be operated once qualified
Boom lifts
These are mobile platforms classified as self-propelled. They are also known as stepladders. It is one of the more common types of platform: a boom with a platform placed on a truck trailer. Boomers can vary in lifting capacity, working height, platform size and drive: electric or diesel, and depending on these parameters, they can be used for a variety of purposes. They are used for indoor work (for example, assembly or maintenance work in large factory halls or warehouses) and also outdoors: for work on the facades of buildings, installation and repair of lighting, pruning of branches or hanging of large-format advertising.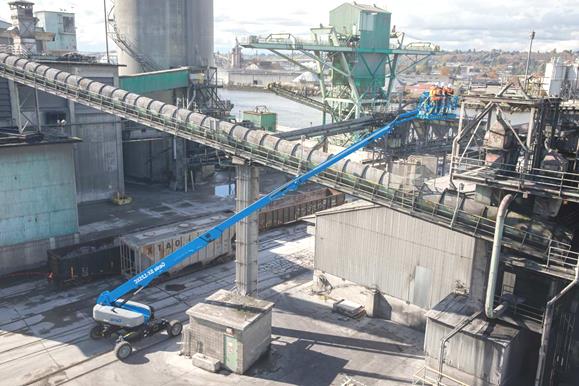 Scissor lifts
These are devices that, according to the classification of the UDT, belong to the free-moving platforms. A characteristic feature of these lifts are the folding outriggers, which resemble scissors in their mode of operation. On the boom, there is a working platform for vertical transport of workers. The whole is placed on a platform equipped with wheels. Electric scissor lifts are often used for indoor work due to their small size. This includes work such as painting walls and ceilings, installation or renovation work. Larger, combustion-engine driven lifts are well suited to work on difficult terrain, including steep slopes and low load capacity.