Industrial mountaineering and work at height
Alpinizm przemysłowy to rodzaj pracy na wysokości, który w ostatnim czasie staje się coraz bardziej popularny. Do pracy można podejść z pasją. W alpinizmie przemysłowym stosowane są tak zwane techniki linowe. Alpiniści przemysłowi podkreślają, że praca nie jest łatwa i nie dla każdego.
Wymagania zdrowotne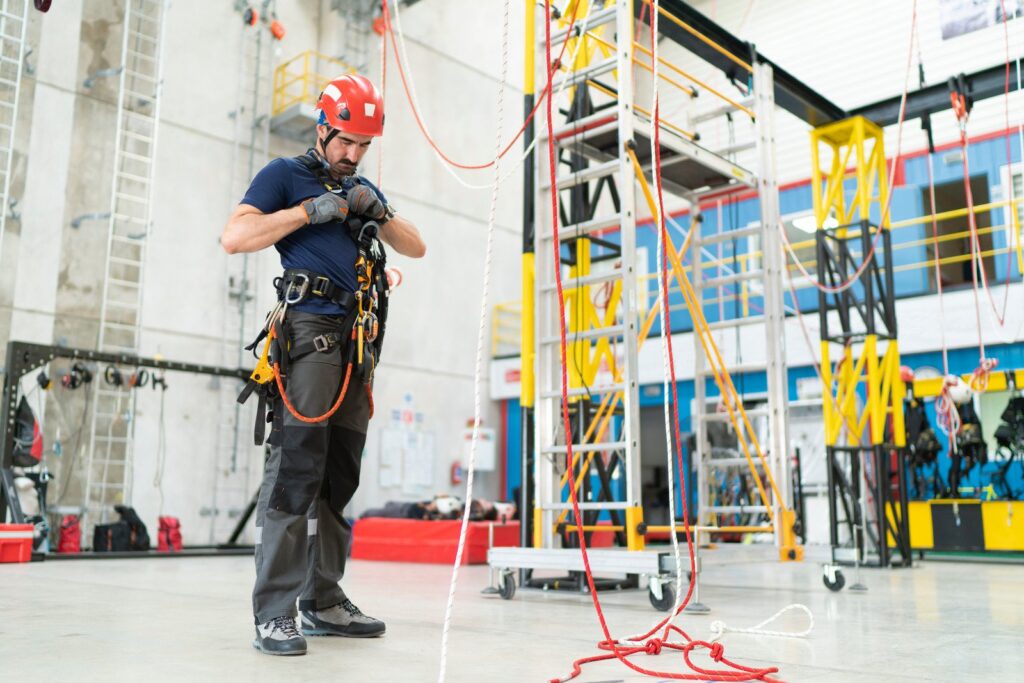 Potrzeba żelaznej kondycji, odporności na stres, braku lęku wysokości. Można zatem powiedzieć, że oprócz sprawności fizycznej potrzeba sprawności psychofizycznej. Praca jest dla prawdziwych pasjonatów.
Jak wygląda praca alpinisty?
Alpinista przemysłowy pracuje zazwyczaj na zewnętrz, więc narażony jest na niekorzystne zjawiska pogodowe. Dostęp linowy ma dość często uzasadnienie logiczne i ekonomiczne. Wykorzystywany jest specjalistyczny sprzęt. Alpiniści przemysłowi pracują w różnych miejscach np. malują konstrukcje, montują nadajniki czy wykonują prace serwisowe. Pracownicy zajmują się również pracą w środowisku naturalnym np. zabezpieczanie osuwisk czy wycinka drzew.
Sprzęt i strój alpinisty przemysłowego
To work at height, you need to use the following equipment: 
Kask;
Bloczki do transportu ciężarów;
Przyrządy zjazdowe;
Uprząż robocza;
Liny do podchodzenia;
Specjalistyczne karabinki.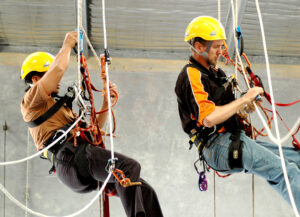 Oprócz specjalistycznego sprzętu ważny jest także odpowiedni strój. Alpiniści przemysłowi używają materiałów termo aktywnych, które zapewniają komfort cieplny. Niezbędna mogą okazać się również nieprzemakalne kombinezony. Wszystko zależy bowiem od warunków atmosferycznych. Przedsiębiorca zlecający pracę na wysokości musi także zadbać o różne środki ochrony tj. okulary, rękawice czy zatyczki do uszu. Pracownicy wysokościowi mają tak zwaną książkę prac, gdzie zapisywane są przepracowane godziny.