Training for rises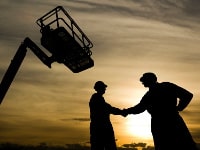 In ERGON Personnel Training Center we offer a professional course for scissor lifts, self-propelled and other. Our goal is to comprehensively train each participant so that he can obtain key qualifications for increases in accordance with UDT regulations. Thanks to us, employees know the principles of operation and operation of the device very well - the training courses cover the subject comprehensively and thanks to the fact that they are conducted by experts in their field, they are the best investment for both the employee and the employer. We make every effort to ensure the lowest possible prices for our lift training. We have prepared additional price reductions for larger groups!
Each training course for platforms at our centre is divided into a theoretical and practical part, which is why it covers the subject matter in its entirety and allows employees to prepare solidly for the UDT exam and to pass it successfully. Participants in the boom lift training receive, among other things, information on how to operate the equipment safely in accordance with the provisions of the Office of Technical Inspection and Health and Safety on working at height, as well as information on the construction and principles of operation of these machines. We also provide practical classes that allow participants to acquire the necessary skills to operate the equipment. Courses organised at our Centre are the best choice!
Application
Aerial platforms, which are also referred to as aerial work platforms, are devices classified as movable platforms. They are designed for quick erection of people, equipment or materials to a certain height in order to carry out the commissioned work in this way, for example in the construction, advertising and service industries. These devices are used in construction, assembly, installation, decoration, cleaning and many other works, during which it is necessary to get to a certain height, while setting up the scaffolding would not be an economical solution.
The platforms can be used both outdoors and indoors, including those with high ceilings. This makes them versatile. The platforms can be self-propelled, i.e. mounted on motor vehicles, or slow-moving, which include scissor, telescopic and articulated platforms. The authorizations necessary to operate them are referred to as I P.
Purpose of the training
Our training is intended for people over 18 years of age and having at least basic education. It is also necessary to provide medical certificates that there are no contraindications for the profession of operator.
The aim of the training offered is to provide theoretical information and practical classes that are to teach the participant the correct operation of the device and obtain confirmation of these skills. UDT qualifications. An employee with appropriate qualifications may then participate in work with the use of increases.
With the ERGON Card Training Center it is even easier to obtain qualifications for increases. We cordially invite you to use our services!