PPOŻ abbreviation - definition and basic information
PFD is the abbreviation for fire regulations
Regulations which are indispensable and relate to fire protection are standardised in Poland by the Act of 24 August 1991 on fire protection. Precise and superordinate information can also be found in executive acts to this Act (in various types of regulations issued by the Ministers of Economy, Transport, Interior and Administration, Agriculture and Rural Development, Environment and Water Management).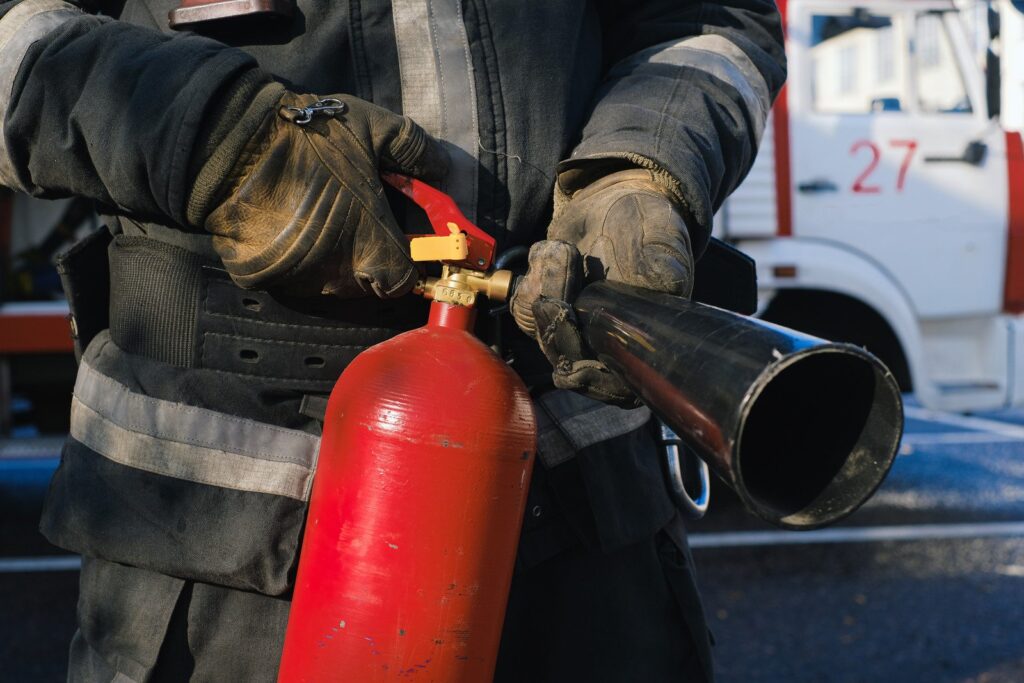 Safety in the workplace 
Regardless of where we are, a sense of security is very important to all of us. It is very important that buildings meet the highest standards in terms of fire protection. It is the responsibility of building managers, owners and the individuals or institutions using them to ensure our safety. By properly respecting the technological, technical, construction and installation rules, together with compliance with preventive rules (regulations), we can greatly reduce the risk of fire.
The premises are required to have fire extinguishers and other fire-fighting equipment for the prevention, detection and control of fire. These include, but are not limited to:
smoke extraction devices,
signalling and alarm equipment,
fire switches,
hydrants,
explosion protection devices,
smoke curtains,
evacuation lighting installations,
fire doors and gates.
A signposted evacuation route is also mandatory and the building must be prepared in case a rescue operation is carried out.
Employer's obligations and fire protection 
The employer's obligations regarding fire protection are set out in the Act of 24 August 1991 and the Labour Code.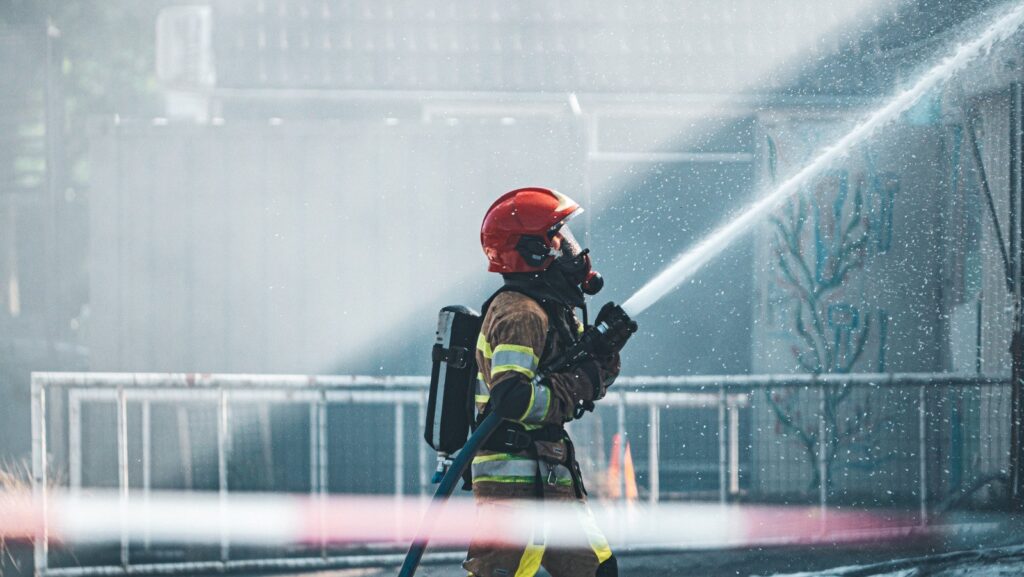 The employer has a duty to provide safe and healthy working conditions (Health and Safety), to provide the necessary means to give first aid and also to fight fires. Its tasks also include:
Determination of existing fire hazards taking into account the workstation.
Notify all employees of the hazards present on the work site.
Identify and communicate emergency policies.
Notify all your subordinates of the actions taken to eliminate or significantly reduce the risk of fire hazards.
Designate staff with fire fighting, evacuation and first aid duties.
Notification to subordinates of designated employees. A list should be drawn up and posted with the name of the designated person, his/her business telephone number and an indication of the location of the work he/she is doing.
Regarding the appointment of employees, the regulations do not specify how many employees should be appointed. It is assumed that in the case of a company with several floors, at least two persons per floor are appointed. In the case of a company with shift work, at least two persons per shift. The employer must provide the designated employee(s) with company telephones.
On the other hand, it is incumbent on those working to notify their employer immediately and alert them to the danger.
It is important that the employees who take responsibility for fire protection tasks together with the management staff are properly trained and know how to act at the time of danger.
Fire and safety training 
One of the responsibilities that rests on the shoulders of an employer with employees is to conduct fire training. At this, the subordinate will learn how to behave properly in the event of a fire, what needs to be done before leaving the premises, how to conduct an evacuation or provide first aid.
Fire safety courses are divided into two groups:
Initial fire and safety training:
It is intended for employees starting work. At the course, subordinates learn about their fire protection duties, become familiar with the use of fire-fighting equipment and learn about potential hazards. After completing such a course, employees should know the escape route, the location of fire-fighting equipment and what to do in the event of an emergency. It is also important that the course includes information on fire starting and how fires spread.
Specialist fire safety training: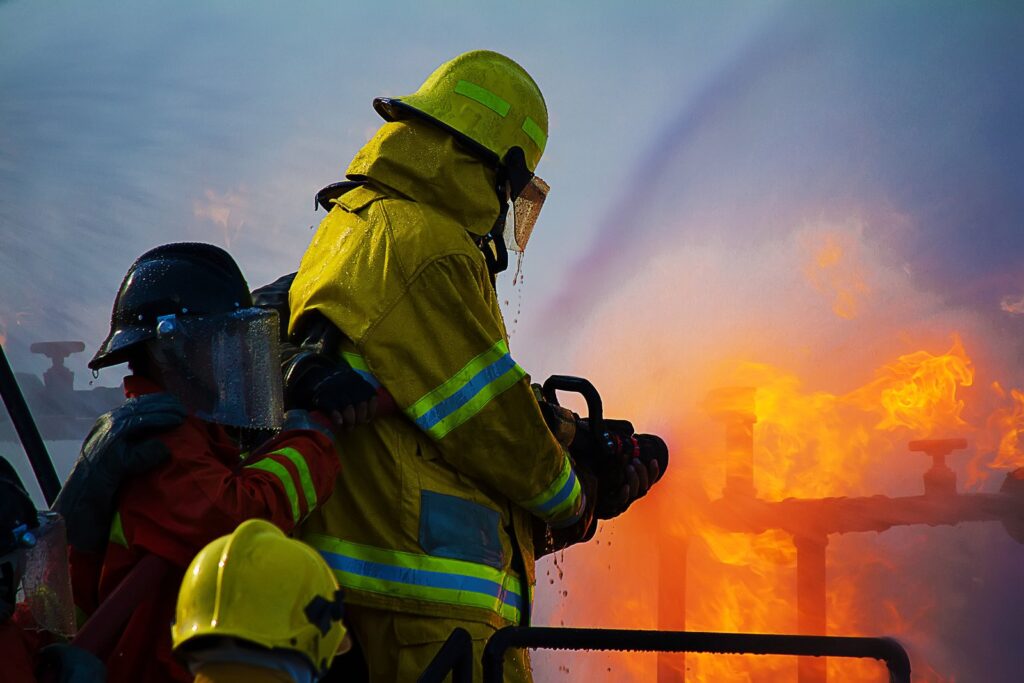 It is designed for workers who may come into contact with flammable materials during their work.
Fire safety training courses are usually carried out by a fire safety inspector or specialist. Sometimes, however, companies have the right to delegate external bodies or specially specialised institutions to carry out the courses. A regulation came into force in 2010, under which fire safety training should be carried out by the building owner at least once every two years.
In addition to fire training and compliance with health and safety regulations, it is important to inspect machinery (if any in the workplace), all equipment and fire protection systems. This can help considerably to avoid malfunctions and therefore fires. Regular monitoring of fire protection systems will give us confidence that they will work properly in the event of an emergency.
The ERGON Centre for the Improvement of Personnel conducts fire-fighting training at a high level. We have experienced instructors, modern facilities and an extensive curriculum. We organise both initial and periodic fire training courses. By training with us, your employees will always be well prepared in case of an emergency. Our head office is in Warsaw, but our branches are located all over Poland. We provide open and closed training - organised for groups. So we will reach you in almost every corner of Poland. Feel free to contact us.