Do's and Don'ts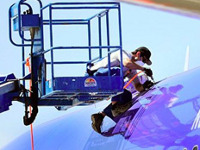 The most important orders and prohibitions when working with mobile platforms
Employees wishing to obtain UDT qualifications to work with mobile platforms of different types, they receive comprehensive theoretical preparation, which also includes safety principles.
Before device will be used:
carry out all daily checks on the condition of the equipment
do not use damaged or incomplete equipment
do not use the equipment on an unsuitable surface
Before moving the device:
the surface should be thoroughly checked for damage and obstructions
check the direction of movement of the device
Moving the device:
constantly check the space in front of and above the appliance in the direction of its movement

move the platform at an appropriate speed
steer the equipment to avoid obstacles that may appear
do not lean over the rails of the device
do not place objects on the control panel
do not lean on the control panel
mobile phones should not be used
Placing devices in the correct position:
adjust the height of the unit to the correct level
watch out for obstacles, including on the ceiling
the pavement should be checked for damage and level
Using devices:
mobile platforms should not be used by persons without training
the operator should be familiar with the specific type of equipment
the operator should be made aware of the risks involved in using the equipment and of the operating rules
Rescue:
do not use the device if you are not sure of the rescue procedures and there is no one nearby who is familiar with them
In addition, the mobile platforms course addresses other issues related to safety rules when using the equipment. As an operator, you should be familiar with all of the rules outlined for mobile, ride-on, freewheel and other types of lifts depending on their type and rating.
By choosing our course for mobile platformsYou receive a comprehensive service including theoretical and practical training to enable you to use the equipment safely.