Course for mast climbing work platforms
This training program complies with the requirements of the Office of Technical Inspection and takes into account the scope of knowledge required in the state examination on mobile platforms. We recommend the course to people who are determined to acquire new qualifications in the profession of an operator of handling equipment.
What is a mast mobile lift
It is a material handling device, used to move employees vertically as a work station at height. In this platform, the platform is placed on a mast - a truss structure on which it can slide thanks to the operation of a drive unit - a rack and pinion jack. The mast is most often folded, so you can change its height, depending on your needs. The whole thing is placed on a chassis equipped with wheels, thanks to which the platform can be easily transported / delivered to the construction site.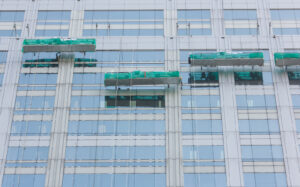 The operator of mast climbing work platforms should first of all check if the device is suitable for indoor and outdoor use. Some of them are designed for indoor use only. It is also important to properly place the device on a stable surface and secure it with supports so that the work is completely safe.
Mast platforms are used, among others, in:
Construction work
Renovation works, such as painting, insulation, plastering
Installation of installations, windows, central air conditioning units on building facades
Work in warehouses and factory halls
According to the UDT classification, the stationary mobile platform is a material handling device under technical supervision. Until June 2020, it belonged to the II P category, along with hanging platforms, now it is obtained UDT qualifications on stationary and mast mobile platforms simultaneously.
Mast climbing work platforms - a course for operators
The aim of the courses is to provide knowledge about the construction, operation, use of platforms, safety rules for their operation and obligations related to technical supervision. Theoretical lectures are supplemented with practical exercises, so that even those who have never dealt with mast platforms could sufficiently master their operation.
Duration of classes
The number of hours of classes may differ depending on the group to which the participant is qualified. The time needed for learning is determined individually - people who already have experience in working with platforms may need fewer hours of lectures and practical exercises. In turn, beginners are provided with all the knowledge required for the exam.
Approximate duration of training is from about 8 to about 20-35 hours. Students will receive information on this at the registration stage.

Dates of classes
New training groups are launched even several times a month. To check when the next "Stationary mobile platforms" courses start, please see the information on our website www.platformaedukacji.pl.
Location
Classes are held at several locations, including online. We organise courses for mobile platforms in Warsaw, as well as in many large cities. The theoretical part can also be passed online by taking part in webinars, which take place in real time - live.
Conditions of participation
We do not require experience or practice from participants. However, we expect to meet the basic requirements: 18 years of age, minimum basic education, as well as no health contraindications, confirmed in the form of a declaration from the student, and in the case of work in accordance with the requirements of the Labor Code, a medical certificate is required.
Records
To enroll in a mast climbing work platform operator course, select the appropriate date on the website www.platformaedukacji.pl, add it to your cart, and then make the payment. Then the place at the selected training will be reserved.
On the website, you can also sign up for other courses: rises (self-propelled mobile platforms), mobile mobile platforms and other devices subject to technical supervision.
Exam and qualifications
After completing theoretical and practical classes, participants have the opportunity to take the state examination conducted by UDT. Trainings are organized by our Center on such dates that the exam takes place as soon as possible after the end of classes. The course participant takes a knowledge test, and then a practical skills test in front of an inspector of UDT Warsaw or another branch.
A positive result of the examination means that the candidate operator is granted the authorization. They are valid for stationary and mast mobile platforms and are valid for 10 consecutive years. It is a document sufficient to work as an operator throughout Poland.