Mobile platforms course - spiders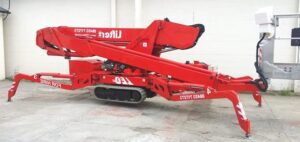 The spider-type mobile platform is a device often used where aerial work platforms cannot access. They are readily used for indoor and outdoor work. They are valued above all for their small size and weight. As with other mobile platforms, they require a licence to operate, which is issued by the Office of Technical Inspection. Our centre organises courses that effectively prepare you for examinations confirming your professional qualifications.
Mobile platform (spider) licences - why should you have one?
A licence issued by the UDT to work with mobile platforms is a document that every employer requires. Without these authorisations, only auxiliary work can be carried out, but the wages for such positions are significantly lower.
People who can operate mobile platforms are readily employed by, among others, companies involved in:
Maintenance and repair work on the exterior and interior of buildings
Snow clearance and roof repairs
Pruning of branches, maintenance of greenery
Painting of walls and building facades
Handling of large warehouses
Window cleaning at heightsTransportable versus other mobile platforms
So-called spiders differ from other mobile platforms in the way they are moved. Unlike aerial work platforms or scissor lifts, they do not move independently, but have chassis adapted to be transported on car trailers. Such vehicles with lifts mounted on a trailer are treated as special trailers in road traffic.
Mobile platforms - spiders are smaller in size than other types of lift, and are also lighter, so they work well on ground with low load-bearing capacity, such as inside buildings. At the same time, their working range (several metres) and height (up to several tens of metres) are relatively large, allowing a wide range of work to be carried out. Because they are transported on vehicles, they can be moved quickly from site to site.
'Spider' mobile platforms - operator course
What can you learn on the course?
Training in the operation of "spider" platforms is a theoretical and practical education for people who want to become operators of such equipment. During the course, participants become acquainted with the construction of the platforms, the conditions for their safe operation, technical supervision regulations, learn how to read operating instructions, etc. They also have the opportunity to practice operating the equipment in practice and learn how to prepare mobile platforms for work, how to control them, how to deal with breakdowns or accidents.
For whom is the training intended?
The spider mobile platform course is available at various levels. We welcome both people who want to learn how to use this type of equipment but have not yet dealt with it, as well as those who already use it in their work but are not yet certified to operate it themselves.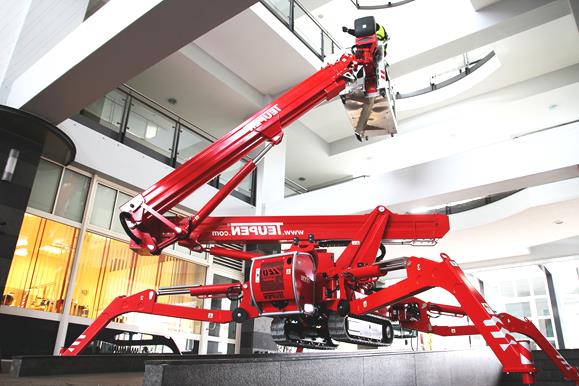 What is the exam for the "spider" mobile platforms licence?
The examination is conducted by an external body, the UDT. The training courses take the form of preparation for this exam: the trainer tests the participants on their level of knowledge, and the scope of the material coincides with the exam requirements. Also, the practical part prepares for the interview conducted at the machine by the examiner.
The mobile platform operator examination takes the form of a test followed by a practical test. A positive result in both parts means the award of the UDT qualificationswhich are valid in Poland for 10 years.
Registration for the mobile platforms course
Courses are organised both in an open format, for all participants, and in a closed format, for companies. More organisational details can be found on this page: https://kursy-udt.pl/szkolenia/podesty-ruchome/