How do you get your operator's licence?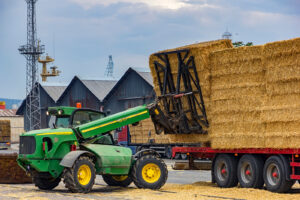 Telescopic handlers are construction and agricultural equipment designed to make man's job easier, as well as shorter. The first machines appeared at the Liner manufacturing plant and debuted at the London show in 1974. The loader consisted of a boom that was designed to lift goods to a height of more than 6 metres. It was only the growing interest that caused many manufacturing companies to change their priorities and assumptions. In 1980, an articulated loader with a telescopic boom with a reach of more than 5 metres was developed. In 1981, a 4×4 drive loader was introduced. By the end of the 20th century, a new, stable and manoeuvrable machine had emerged and its basic design has survived and is still used by most manufacturing companies today. Every year you can see improved and increasingly modern machines with additional accessories, more power and better reach.
Nowadays, they are used in transportation work for, among other things, handling, lifting, carrying, removing, placing at a certain height and transporting various types of material. Variable reach loaders, or specialised forklifts, are most commonly used in the agricultural and construction sectors. They allow tasks to be carried out safely and efficiently. They are distinguished from standard forklift trucks by their different design and equipment. Special attachments make it possible to transport large and heavy objects and materials. In addition, a protected cabin protects the operator from accidents, and the tyres and drive are designed for all surfaces - even the most difficult ones. Thanks to their higher-powered engines and special design, they are used in situations where conventional forklifts would not pass the test. Their high manoeuvrability allows them to be used in areas with limited manoeuvring space.
The main components of telehandlers are:
operator's cab
hydraulic boom with hydraulic pump
internal combustion engine
front stabilisers
running wheels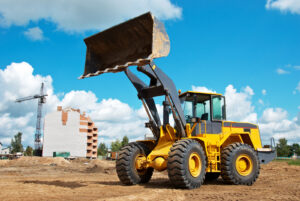 Telescopic handlers are lift trucks and belong to category I WJO. Called multi-purpose attachment carriers due to their interchangeable boom phase. With their modern design and high functionality, telehandlers are slowly taking over from older forklift models.
Based on market availability, we distinguish the following types:
with mechanical drive
with drive generated by hydraulic motors
The hydrostatic drive uses hydraulic oil for its transmission. The drive components are mainly pumps and motors, which form the gears. Most telescopic handlers used in agriculture operate on the basis of such a system. Machines with this drive system operate with millimetre precision. They are characterised by their small dimensions, making it easier to control speed and also to change direction. Telescopic handlers with hydrostatic drive are more suitable for work on hard surfaces. In situations where there is a need to drive over rough terrain, it is worth considering a telehandler with a mechanical drive, which is more efficient and can handle a heavier load on difficult ground.
Lifting a large pallet to a great height requires a strong and stable machine. The loader is designed precisely for this purpose because of its lateral stabilising supports. The stabilisers are the support point for the telehandler. They enable heavy loads to be transported without the machine tipping over, changing its centre of gravity, bringing the machine's support point forward. Otherwise, when lifting heavy materials, where the centre of gravity lies under the wheels, the loader would tip forward.
It is worth considering the tipping force when the arm is fully extended. This is the force multiplied by the length of the arm. The more the arm is extended the more the tension increases as the weight acts more on the greater length.
There are two types of equipment by design: swivel and rigid, frontal. Rotating have a swivel head that allows the cab to be repositioned and allows the boom to be repositioned 360 degrees on the machine platform. Lifting capacity ranges from 3 to 5 tonnes, with an outreach of up to 30 metres. However, rigid, frontal are a type of loader in which the operator's cab is rigidly mounted on the machine frame and does not rotate relative to the chassis. The booms are located on the right-hand side. The machines can be fitted with side supports. The lifting capacity averages between 1.5 and 20 tonnes and the outreach is up to 20 metres. They have limited mobility and are mainly used for vertical transport. Compact loaders are particularly popular in this situation. There are also models with supports that guarantee a higher lifting capacity. Rotary and front-end loaders are multi-purpose machines with great potential. They are used in many sectors of activity. They are indispensable on construction sites. They can be used, for example, to lift wooden construction parts, heavy precast concrete elements or large building components. They can cope well on difficult terrain with uneven surfaces.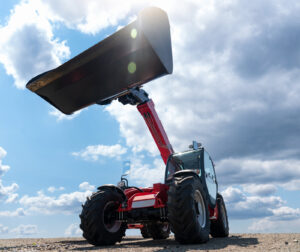 In agriculture, these devices can increasingly be seen on modern farms. Among other things, the right attachments enable convenient and efficient transport of feed, hay, bags, crops, barrels, pallets, etc. They are also used when erecting fences for transporting heavy lots, as well as loading and unloading various parts. In underground mines or in those where road aggregate is extracted, you will also notice telehandlers. In this case, electric vehicles are used to avoid generating harmful exhaust fumes. At airports, they are used as transport platforms, enabling aircraft to be quickly inspected, refuelled or repairs to be carried out efficiently. They can also be used to handle heavy logs and timber in the timber industry, ensuring that tasks are carried out safely. These are just a few of the many possible uses of these machines.
Those interested in operating telehandlers must complete a course and pass an examination to obtain the relevant entitlements in category I WJO for specialised forklift trucks issued by the Office of Technical Inspection. Authorisations issued for other forklift trucks do not authorise the operation of telescopic handlers. When signing up for the training, it is sufficient to be at least 18 years old and have at least a primary school education, as well as to have a medical certificate confirming that there are no objections to working as an operator. During the course, participants gain theoretical knowledge of the principles of Health and Safety, the operation of the machine and a lot of other valuable information for this position. In addition to this, they must pass practical classes.