Construction of a forklift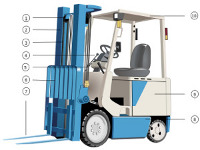 Courses for forklifts covers all the necessary information for an operator's job, including the inclusion of data on the construction of typical fork - lift trucks.
Forklift trucks are built from the following structural components:
frame - made of properly formed steel
chassis - the chassis is made up of wheels, usually three or four depending on the model of machine
engine - vehicles mainly use low compression ignition engines running on LPG, petrol and diesel, electric and battery engines are also popular
counterweight - its main purpose is to ensure that the vehicle is adequately loaded when carrying a load; it is usually in the form of a steel block at the rear end
mast - the part mounted vertically at the front of the machine that allows loads to be lowered, lifted and tilted
Forks - these are L-shaped and moved vertically by a chain. The forks can also be exchanged for other types of attachments, such as those adapted for transporting cardboard boxes, barrels
ambulance - the front plate of the vehicle, which is mounted to the mast, to the ambulance the forks and the protective grille are attached
protective grille - to prevent the transported loads from slipping
safety cage - protects the machine operator from loads falling on him from above
operator's cab - intended for operating the vehicle, it contains elements such as the steering wheel, pedals, levers that allow the entire vehicle to be controlled. The cabin is open, but enclosed, so that the person inside is protected from possible accidents
Forklifts may also include other components depending on their intended use. Among other things, steerable forklifts do not have an operator's cab, specialised forklifts may have an overhang designed to lift heavy loads to higher levels.
In addition, forklift courses incorporate information on different types of forklifts, including walk-behind, platform, seat and remote-controlled, and electric, battery, petrol, diesel.