Forklifts and their types
Forklifts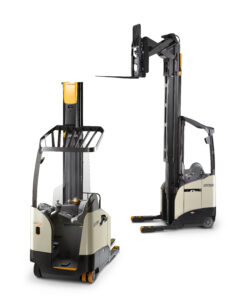 There is probably no person who would not see a forklift in their life. It is so widely used that it is impossible to miss it. It is worth getting to know the subject of forklifts, because they are one of the most desirable means of internal transport. When you have a warehouse, the area of which is not the smallest, it is difficult to do without this equipment. Their use is very wide and varies depending on the model and its specifications.
Construction of the device
This knowledge must be known to every user of the vehicle, although it might seem that it is needed only for the maintenance of the device or for its repair. Familiarization with the design of the supported device allows us to get to know its functioning better. One of the requirements when passing the exam allowing you to get UDT qualifications it is just having this knowledge.
Each type of forklift truck is different from each other, but their construction has common elements that form the basis. We distinguish:
Frame - which is most often made of steel.
Chassis - consists of three or four wheels.
Engine - it can be low-pressure (petrol or gas), diesel (diesel), and electrically powered from a battery.
Counterweight - this is an additional load located at the rear of the cart, responsible for maintaining balance when working with loads heavier than the cart.
Mast - an element that performs the function of lifting loads. The mast can be single, double or triple.
Forks - are responsible for supporting loads. Their shape resembles the letter '' L ''. Depending on the type of trolley, they differ in length and method of assembly.
Faceplate - on it there are wires and a protective grille, it is made of steel and attached to the mast.
Protective grille - is responsible for protecting the load so that it cannot slide towards the operator.
Operator's cabin - it allows you to work in a sitting position, it has a steering wheel, pedals and levers, depending on the type of truck, it may have other additional elements.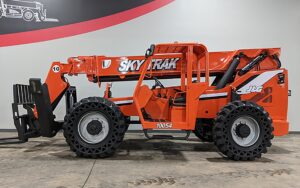 Forklift control
The design of the controls does not deviate too far from those found in any car. Forklift truck is equipped with a steering wheel, gas, brake and sometimes even a clutch. The drive train can be a gearbox with a friction or hydrokinetic clutch, or a hydrokinetic or hydrostatic transmission. There are two gears (in both forward and reverse directions): a faster gear and a slower gear. Although the control panel of the forklift is similar to that of a car, the control itself is significantly different. The turning radius of the forklift is smaller. A loaded forklift has a specific centre of gravity, which, when entering a corner at high speed and with a raised load, can cause the machine to fall. Therefore, operating this type of machine requires special training and certification.
Types and specification
Reach forklifts
This type is one of the most used vehicles in the warehouse area. They are electrically powered and are used to move, rotate and lift objects. Their weight is relatively light compared to other trolleys, they allow you to work on smaller terrain and are very efficient. In their construction, we distinguish lower stringers and the front wheels placed on them.
Among the reach trucks, we can distinguish:
Trolleys for handling double-deep racks - thanks to the fact that they are equipped with a movable mast and forks, they allow access to materials at a second depth. Unfortunately, this limits their maximum load and the lifting of materials at height.
Side load storage carts - they have the possibility of turning the wheels by 90 degrees, thanks to which they can move sideways and forwards. They are suitable for transporting long loads.
Forklift trucks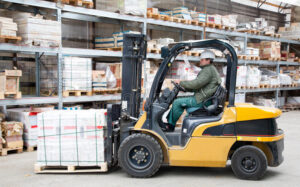 They are used to raise and lower loads to different heights. They are used in warehouses where loads are arranged according to the high storage system. There are several types of forklift trucks:
Frontal - their most important feature is that the weight of the lifted load is balanced with the weight of the forklift. They can interact with other devices used for work.
With inner mast - in this case, we distinguish a forklift with an inner mast including the load and not including the load. The first one is equipped with a fixed mast, and the forks are located outside the traveling arms. In turn, the second type mentioned has a mast that has a retractable form. The forks are located between the running arms during operation.
Specialized - it is a type of forklift that allows you to lift the operator with the load. As a result, the load can be positioned very accurately, the operator has the ability to control the arrangement, not so much by feeling, but by seeing it in detail. They are used mainly in high-bay warehouses.
Lateral - here the forks are placed perpendicular to the operator's position, they have a counterweight responsible for stability. These trolleys can be one-sided as well as two-sided. They are characterized by a small range of twist. They are perfect for work with a limited space of operation, e.g. in narrow aisles.
Gate - the load carried is enclosed by a frame in the form of a gate. Then it is raised in it.
Telescopic loaders 
It is a type of forklift with variable reach, belonging to the group of specialized trucks. These devices are used in many industries: construction, agriculture, horticulture, industry and municipal works. They are multi-purpose and very efficient. Designed for the transport of all kinds of materials, their maximum lifting capacity is up to 22 tons. They can also be used for reloading pallets, and can also be converted into lifts that allow you to work at heights. They can lift the load up to 30m. We distinguish:
Front loaders - with a boom located on the right side and a fixed operator's cabin. They are perfect for transporting heavy materials.
Rotary loaders - as the name suggests, they allow the operator's cabin to be rotated 360 degrees with a special head. These, in turn, are perfect for lifting loads to great heights.
Maintenance of forklifts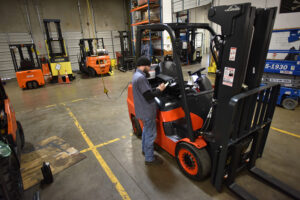 In order to be sure that the use of the device is completely safe, it should be subjected to technical tests and, if necessary, returned to the service for repair. These tests are aimed at determining the correct operation of the device.
How often should forklift inspections be carried out?
According to the Regulation of the Minister of Economy, Labor and Social Policy of October 29, 2003 on the technical conditions of technical inspection in the field of operation of certain handling equipment, technical inspections should take place every 30 days for vehicles with full technical inspection and every 60 days for vehicles with limited technical supervision. The person authorized to perform the tests is the conservator.
At the time of failure of the device, it is recommended to perform such tests immediately after its repair, even if the previous test was performed just before the failure occurred.
During the technical inspection, the maintenance technician's task is to check, among others:
Appropriate marking of the vehicle
Condition and wear of forks and chains
Steering and braking systems
Hydraulic system
Sound signaling
Lighting actions
Tire wear level