The use of mobile platforms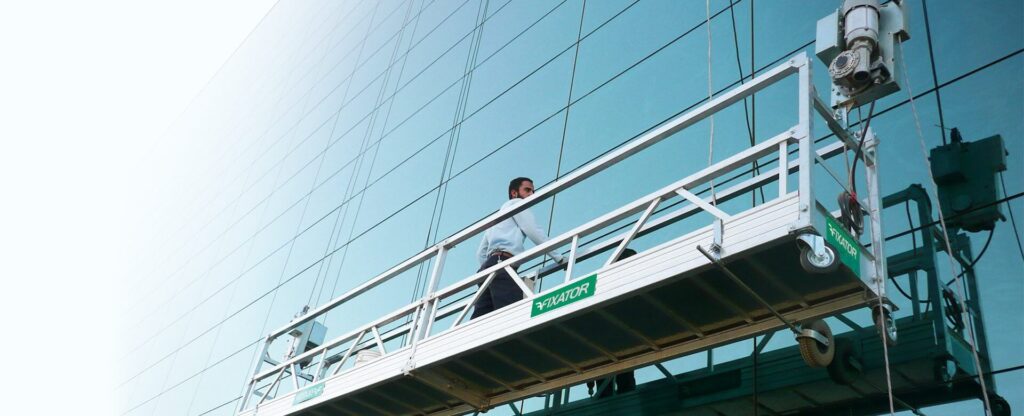 The name of mobile platforms was created in order to distinguish this type of devices from the so-called static landings. Currently, there are many terms on the market that describe the same type of device, the most popular terms are: a self-propelled platform, a work platform and a boom. However, the use of such terms is incorrect.
The concept of a mobile platform is commonly understood as a certain type of cranes included in a set of construction machines. The main purpose of using mobile platforms is to transport materials and people to a specific workplace. Movement can take place both horizontally and vertically. The construction of the movable platform is not complicated, as it consists of a platform, colloquially speaking a basket mounted on a linkage, or a platform lifted on a hoist.
Based on their design features, mobile platforms are divided into:
Hanging mobile platforms- they include winches, lifting ropes, working platform and safety ropes. Platforms can be permanently assembled for the needs of a building structure or temporarily for the duration of specific works. The working platform is attached to the carrying rope with a hanger. There are three methods of attaching the work platform: single-point hitch, two-point hitch and multi-point hitch.
Mast climbing platforms- they include a working platform, one or two masts and bases. The work platform moves on the mast or masts, which are the platform's driving mechanism and allow it to move freely. The most common structure used to build a mast is a truss structure. The most common form used for lifting is the use of a rack and pinion jack, which allows the work platform to be freely moved along the mast. The chassis of the platform most often has the character of a trolley, which allows easy towing. Mast platforms can be divided into:
Retractable telescopic platforms - they are characterized by an extendable telescopic arm, which means that they must be located directly under the target place during high-altitude work.
Folding telescopic platforms - characterized by a folded arm composed of many parts, which allows you to get to hard-to-reach places without having to go directly to a given place.
Mast climbing platforms are most often used in all kinds of renovation and construction works, performing entrusted cleaning works in the urban space, renovation of monuments and installation of guttering.
Scissor lifts - the main advantage of the scissor lifts is the large size of the working platform and stability, which is ensured by the even distribution of the scissor mechanism. Scissor lifts usually have a higher lifting capacity, thus giving the possibility of lifting more people, usually up to three people. Platforms of this type are usually used for cleaning works such as window cleaning or installation of billboards.
Telescopic mobile platforms - these are machines designed to work at extreme heights. Thanks to the special structure of the telescope, it is possible to work on tall structures and buildings without having to move to the right place.
Articulated mobile platforms - thanks to their specialized construction, they enable work in difficult conditions with limited access. The articulated aerial platform has a characteristic arm, which consists of several movable points, thus enabling bending at many angles, which is associated with greater accessibility and reaching hard-to-reach places.
Telescopic - articulated platforms - flexible lifts used both inside and outside. Their working height is usually around 20.3 m. Like most lifts, they are perfect for hard-to-reach workplaces. Thanks to the system of joints connected to the telescope, we can get to every hard-to-reach place in the hall above various installations or shelves. The distinguishing feature of telescopic-articulated platforms is the fact that they are extremely manoeuvrable and can turn in either direction with the basket raised or lowered.
Mobile loading platforms - most often called tail lifts or car lifts. They usually take the form of a platform attached to the rear of a delivery vehicle or truck. The platform is used to lift the load in order to load or unload it.
The most popular group of platforms are mobile mobile platforms, which are divided into:
Multi-speed mobile platforms - they consist of a chassis, a working platform and a load-bearing structure connected with the chassis on which the working platform is attached. A great convenience is the fact that they have their own two- or four-wheel drive. The undercarriage can be caterpillar or wheeled. The power supply can be combustion or electric.
Mobile elevating platforms - usually mounted next to the trailer chassis and intended to be towed behind the vehicle. In road traffic, they are treated as special trailers.
Self-propelled mobile platforms - attached to the chassis of the car and approved for road traffic.
Based on the type of drive, mobile platforms are divided into:
Electric powered platforms
Platforms with combustion engine
Mobile platforms have a number of advantages, the most important of which is, above all, the fact that they can lift from one to three people, the operation is convenient due to the possibility of remote control directly from the raised platform, working with this type of device is easy and ensures safety at the highest level. Due to the installed durable protective barriers mounted at the appropriate height allowing for convenient manipulation of tools by employees, they allow lifting up to 20 meters, therefore the use of forklifts is rejected, most of them have an ecological drive, which allows you to work inside buildings or halls without fear of excessive volume or exhaust emissions.