Maintenance of devices intended for the disabled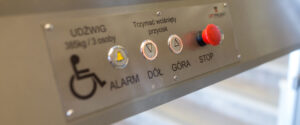 Lifts with hydraulic or electric drive, which we find near the stairs, for example at railway stations, universities, offices, banks, libraries and other places of public interest, are specialized devices designed to help people with disabilities.
According to the building regulations in force, every designer of public buildings must try to remove all architectural barriers. The design of buildings is carried out in such a way as to take into account the needs of disabled people and provide devices that allow you to move around such places in a complete and safe way.
What are devices for the disabled?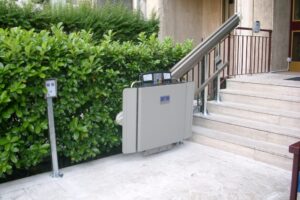 Stairlifts - devices installed in the vicinity of the staircase, inside or outside the building. They are intended for the transport of disabled people, including those in wheelchairs. They are installed wherever there is no elevator. Depending on the needs, the following are used:
inclined platforms - they move along the stairs, allow the transport of a person in a wheelchair;
chair lifts - they have the structure of a folding chair, they allow the transport of a person in a sitting position.
Vertical platform for the disabled - has a much greater load capacity than stairlifts. It is characterized by a screw, chain or hydraulic drive. It is large enough to transport a person in a wheelchair with their guardian.
Maintenance of facilities for the transportation of the disabled
Devices intended for lifting architectural barriers are part of UTB materials handling devices. Maintenance may only be performed by a suitably qualified person. Necessary entitlements issued by the Office of Technical Inspection after successfully passing the state examination.
How to become a conservator of platforms and lifts
To prepare for the aforementioned UDT exam, it is worth signing up for the appropriate training, which involves gaining theoretical and practical knowledge. During the course, you will learn not only the types of platforms, but also the detailed construction of electrically and hydraulically powered devices. The course focuses on the most common faults and how to deal with them. You will acquire knowledge about the duties of a conservator and the regulations related to this position.
By obtaining the qualifications, you will be able to repair, maintain and carry out technical inspections of all types of devices for the transport of disabled people.