Handling of manipulators and grippers - vacuum in crane slings
You will get the qualifications:
UDT qualifications to operate vacuum manipulators and grippers in crane slings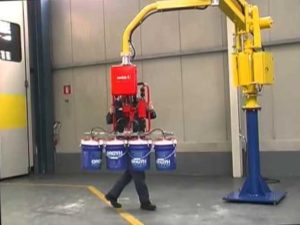 ERGON Personnel Training Center offers training on manipulators and vacuum grippers in crane slings. We encourage you to use our services!
Vacuum manipulators and grippers used on crane slings are popular material handling devices (UTB) that are used in many workplaces.
Our Center conducts classes aimed at personnel handling manipulators and vacuum slings. We teach both theory and practice, providing our students with professional and comprehensive preparation to start working in the profession.
Our classes cover all topics related to the use of manipulators and vacuum grippers on crane slings - from their construction, through their proper operation, to their proper control in accordance with the standards. The exact scope of the course is presented below.
During the training sessions, the following topics are discussed: the following topics:
description of vacuum equipment for handling
construction of vacuum systems, vacuum devices for handling
examples of designs of vacuum devices, including manipulators and vacuum grippers
operating instructions - operation and maintenance of vacuum manipulators and grippers
proper marking of vacuum equipment for handling
safety requirements related to the use of vacuum manipulators and grippers
information on the authorizations needed to operate the presented devices
methods of inspection of vacuum equipment for handling
The total duration of study is 20 to 40 teaching hours.
Our Center can also adjust the subject of classes depending on the individual wishes of the client.
We invite you to choose training services at the ERGON Personnel Training Center!