Rope access course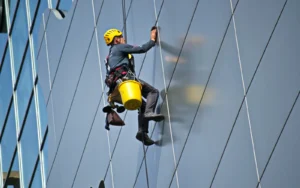 We invite you to the rope access training, organized by ERGON. We have been successfully educating experts for over 25 years! The rope access course follows the BS7985 standard. We prepare for conquest in a professional and effective way permissions mountaineering.
What is rope access?
Rope access training (also known as mountaineering work) - allows you to use ropes (and other equipment) to determine the position of the employee, belay, as well as to enter and exit the workplace and the use of ropes on traverses. Acquiring such skills requires physical fitness, acquiring professional knowledge and specialist training.
Rope access altitude courses concern situations in which an employee performs his tasks while being suspended and two ropes must be used during work: working and safety ropes. The use of mountaineering equipment in rope access is aimed at: stabilizing the working position by supporting or suspending, and protection against falling from a height during the performance of tasks. Climbing access methods are used wherever the use of other techniques (e.g. building access) is not economically justified, is too risky or is technically impossible.
The rope access course is intended for people working at:
cleaning windows and facades of high-rise buildings
painting facades of buildings
installation of large-format advertisements
servicing telecommunications masts
cleaning and painting tanks
assembly and renovation of steel or reinforced concrete structures
and to companies that want to outsource training of their employees
The training is aimed at people who work with mountaineering techniques.

Training
The practical part of the course is carried out on specially prepared structures that are the permanent equipment of the training center. Workshops during the training are carried out with the use of equipment such as: fall arrest systems, safety harnesses, connectors, shock absorbers, self-locking devices, low-stretch braided core ropes, safety lines, connectors, shock absorbers, industrial safety helmets, we also use temporary and permanent belaying systems such as, for example, a lifeline. The training covers the rope access system based on the PN-EN 12841 standard.
The course program provides complete, theoretical and practical preparation for work in the field of rope access.
The training includes topics such as:
characteristics of work at height and the associated risks
preparation of the workplace and planning activities
personal protective equipment (PPE), their selection, use and control
learning to tie knots used in rope access
daily equipment check before use and maintenance
system for handling double ropes: working and belaying
ways of moving on the ropes: ascent and descent
moving along exposed horizontal and oblique sections
hanging shock and fall factor
work in a narrow or small position
crossing the rope protection, transfer from rope to rope
use of the bench at work
causes and prevention of typical accidents
risk assessment and plan B, iOZ
solving simple emergency situations (evacuation from the descender)
free fall distance estimation (deceleration and total fall)
harmful factors occurring in work at height
principles of evacuation, auto-rescue at height
current standards and regulations regarding the safety of work at height
regulations Health and Safety applicable during the work.
Duration of training: 4-5 days, most of the time are practical classes.
After completing the training, the trainee receives
Certificate confirming the completion of ERGON training in Polish and English, recognized in Poland and abroad, based on the BS7985 standard. The center issues certificates in the form of: a plastic card with a hologram and an image in English or a paper card in A4 format with a hologram and image (Polish-English). The certificates contain a detailed description of the obtained qualifications to work at height.
Requirements
To sign up for altitude course in the field of rope access, the following requirements must be met:
18 years or older
education, at least basic
physical fitness to a degree enabling work at height
altitude tests issued by an occupational medicine physician
Course price
The resort offers a very favorable price for kuru. We have prepared attractive discounts for larger groups. A detailed price offer can be found here In case of additional questions please contact us at the number: +48 22 290 29 09 or email: biuro@platformaedukacji.pl our employees will answer them in detail.
Where are the trainings taking place?
Classes at the SPA are conducted by certified instructors and examiners with the highest qualifications. We conduct high-altitude training in the field of rope access at the Training Hall of our OSO Operator Training Center in Warsaw Ursus at ul. Gierdziejewskiego 5 / 272A. The center provides practical training in the hall with the use of equipment such as PETZL brand on a specialized construction H = 12m x W 7m x L10m, which meets the requirements of OTDL, IRATA. The equipment includes industrial ladders, platforms and trusses as well as certified anchoring points (fixed points for belaying). The organizer provides food and drinks.
If you have any additional questions, please do not hesitate to contact us. We invite you to participate in our training!
Why is it worth training?
Training to work at height using mountaineering techniques, completed with the acquisition of rope access qualifications, helps to gain high-paid employment both in Poland and abroad. The course gives you the opportunity to work for min. in industrial sectors such as: construction, mobile telephony, energy, mining; in high bay warehouses.
We also encourage you to familiarize yourself with the offer of other mountaineering training courses organized by our center: construction access training and IRATA altitude training.