Course for rises (aerial platforms)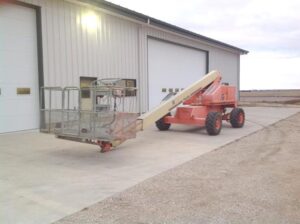 The aim of the training is not only to prepare the students for the UDT exam in the best possible way, but also to transfer knowledge and learn skills that will be useful in later work. Our instructors attach great importance to the principles of safe operation of devices, which allows you to avoid breakdowns and accidents at work. The price of the training includes an exam, after which you will get a pass UDT qualificationsnecessary for work in the profession.
Information about the aerial work platform course
Classes in theory
The course begins with lectures, during which instructors provide in an accessible way knowledge about the construction of lifts, the operation of mechanisms, reading the operating instructions, rules of use, research and tests. Classes are held in stationary or online, in the form of webinars.
Practical
Kursanci mogą umawiać się indywidualnie na ćwiczenia praktyczne w hali na placu manewrowym. Ośrodek dysponuje własną bazą techniczną z urządzeniami omawianymi na kursie. Kandydat na operatora ma okazję zapoznać się w praktyce z budową zwyżek, przećwiczyć uruchamianie i obsługę, poznać zasady Health and Safety obowiązujące przy wypadkach i awariach.
The scope of issues in both parts of the training is agreed with the UDT. The training may vary in the number of hours, depending on the level of advancement and the needs of the group and the type of platforms (from approx. 8 to 35 hours).
Lifts course - organizational details
Who can take part in the classes: people at different levels of advancement, over 18 years of age, with no health contraindications, with at least elementary education.
Where the courses take place: The center organizes training courses for aerial work platforms in Warsaw, Kraków and Katowice. At the request of business clients, we also organize training in other locations.
How much are courses for mobile platforms: The price is shown to interested customers upon registration. It depends, among other things, on the date of the course, the level of advancement of the group and other factors.
UDT exam - qualifications after the course
As part of the classes, a state examination is organized in front of inspectors on behalf of UDT (in Warsaw or other locations). After completing it, you receive rights to increase, valid for 5 years. They are valid in Poland.

Aerial platform: how it works, where it is used
This type of mobile platform is widely used for work at heights. It consists of a platform or a basket placed on a hydraulic arm. The whole thing is usually on a truck trailer, which gives the device a lot of possibilities when it comes to transport.
The basic parameters that may differ between individual models of basket platforms are:
Maximum Lifting Height, which is the height the platform can rise to
Maximum extension of the platform - measured from the axis of rotation to the extreme position of the basket
The dimensions of the work platform
Maximum lifting capacity - the weight that the platform can carry, expressed in kilograms or the number of people
Device weight and dimensions
Drive type: electric or combustion
Examples of use of the boosters are:
Work at heights at the construction site
Maintenance, cleaning, roof painting
Repair of lighting, electrical installation, traffic lights
Washing windows and facade elements
Pruning branches, caring for greenery in parks and other green areas
Fire brigade operations - fire trucks are also a type of aerial platform