Maintenance of facilities for the disabled
You will get the qualifications:
UDT authorisation for maintenance of equipment for disabled persons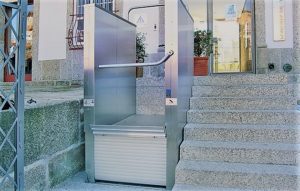 You are invited to take advantage of training in the maintenance of equipment for people with disabilities in ERGON Personnel Training Center!
Devices for disabled people allow them to move easily in their wheelchairs. These devices consist of a platform and a lifting mechanism, which can be equipped with a hydraulic or electric drive. With the use of this type of equipment, architectural barriers to mobility for disabled people can be removed.
At our ERGON Centre, we provide professional courses for people involved in the maintenance of equipment designed to move people with disabilities. Classes consist of a theoretical and practical part and prepare participants to take an exam.
Course participants will learn about the legal basis for the technical supervision of equipment for people with disabilities, types of permissions to operate these devices, and learn practical information related to their maintenance and operation.
During the training sessions, the following topics are discussed: the following topics:
distribution of equipment for disabled persons
components of equipment for disabled persons - mechanical, electrical, hydraulic components
maintenance of various types of equipment for disabled persons
list of typical malfunctions that occur during operation of the equipment
regulations Health and Safety i zasady pierwszej pomocy mające zastosowanie podczas pracy z urządzeniami do przemieszczania osób niepełnosprawnych
Class time ranges from 48 to 88 teaching hours.
Our Centre allows you to tailor the scope of your training to your needs - please feel free to contact us to discuss the details of the service.
We invite you to choose the UTB training courses available at the ERGON Personnel Development Centre!