Operation of specialized forklift trucks lifting the operator or with a variable reach
You will get the qualifications:
UDT qualifications for the operation of specialized forklift trucks lifting the operator or with a variable reach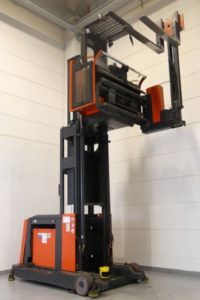 The Kadr Training Center invites you to take advantage of its training offer as part of servicing specialized powered lorries!
Specialized powered lorry trucks are materials handling equipment (UTB) used in a number of loading and unloading works. These trolleys are equipped with a raised cabin or a variable reach, which makes them widely used in various industries.
Courses for specialized powered forklift trucks offered by our ERGON Center are intended for candidates for operators of this type of equipment. We conduct classes in theoretical and practical form through exercises on forklifts.
During the training sessions, the following topics are discussed: the following topics:
entitlements required to operate specialized trolleys
specialized forklifts with variable reach - information about the construction, operating characteristics, maintenance activities
specialized trucks with lifted operator's cabin - information about the construction, work characteristics, maintenance activities
Health and Safety when working with specialised trucks
The duration of the classes is from 10 to 35 teaching hours, including an exam before the UDT commission.
At the client's request, the ERGON Center can adjust the range of classes to individual needs.
We invite you to take advantage of our offer in ODK ERGON!