The most common causes of falls from a height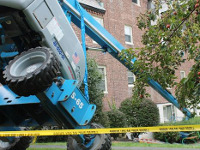 Workers performing their duties at height should be particularly careful. According to the Central Statistical Office, falls from height account for up to 30% of all accidents at work in Poland. It is the responsibility of the employer and the employee to take special care when working at height.
In order for a worker to be able to carry out work at height, they must undergo the appropriate
altitude course
teaching the basics of performing duties at height. In doing so, there are two types of courses: rope access and construction access.A properly trained worker with a
entitlements
to work at height should know how to behave when carrying out duties at height. Inadequate mountaineering work, lack of or incomplete training are among the serious problems behind accidents at height.
The main causes of falls from height relate to:
low risk awareness
starting work at height without proper planning
inadequate communication of risks to workers, which includes failure to provide them with proper instructions and training
inadequate supervision of the carrying out of work at height
work at height without fall protection equipment
failure to use or improper use of protective equipment by workers
The most common causes of fall-related accidents at work are:
inappropriate behaviour of employees at work due to irresponsibility or lack of training on Health and Safety
absence or poor condition of protective devices
inadequate organisation and coordination of the works
tolerance of deviations from the basic rules by direct supervision of OSH
The basis for the absence of accidents is therefore properly planned, safe work at height - height qualifications are very important here, but equally important is the right work culture for employees.
It is also important to remember that people working as industrial climbers or construction workers working at height should attend refresher training courses that update them on the regulations and techniques used when working at height.
More information: