Course for gantries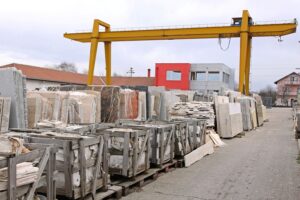 We cordially invite you to a crane course at the ERGON Personnel Training Center. As a center with many years of experience, we provide professional support to each of our clients - our classes are intended both for individual participants and for groups of employees directed by the employer. We make sure that the quality of education at ERGON is always at the highest level. Therefore, if you want to operate cranes, the course in our Center will be a very good investment in the future, and thanks to it, finding a job as an operator will be much easier both in Poland and in Europe.
Types of equipment and their use
Overhead cranes are devices that belong to cranes and are used in many workplaces, including shipbuilding, warehouses, storage facilities, as well as production and industrial halls. Thanks to the various design variants, cranes can be individually adapted to specific jobs. However, they cannot be operated without the relevant authorisations granted by the Technical Inspection Authority.
Variants of cranes at workplaces
Three types of crane are most commonly used in workplaces:
Nator or bridge - mainly installed in halls and equipped with load suspension rods that move on platforms. The platform or overhead models are installed under hall ceilings.
Suspended - construction similar to nator, but use running tracks suspended from the ceiling structure.
Gate - mainly used for external works, constructed from piers placed on the side bridges connecting the gates.
In our Center, we conduct crane trainings that allow you to operate devices of all types. During the course, participants receive a cross-sectional knowledge of specific types of devices. Below we present the types of training we offer. We remind you that they differ in terms of the requirements to start learning.
The authorization to operate overhead cranes is divided into two categories:
IS - includes overhead cranes, hoists and winches in category IW, which are controlled from the working level or from the operator's cabin, devices from category II S
II S - includes devices controlled from the working level, winches and hoists in category II W and stationary workshop cranes
Offer
When it comes to the gantry course, the price in our Center is always encouraging. We set it individually depending on the number of participants, and we are also open to negotiations. As a standard, we invite you to classes at our headquarters in Warsaw and branches located throughout the country - in Katowice, Krakow, Bielsko-Biała. We can also reach you throughout Poland. We are also able to organize crane courses with a program specially tailored to the needs of participants and the client.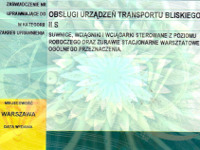 Training topics
Each crane course in ERGON Personnel Training Center is prepared in terms of content by professional instructors and in consultation with specialists from the Office of Technical Inspection. We care about the quality of training, so our courses are always comprehensive and accessible to participants, and therefore they have an optimum effect, not only in terms of passing the exam for the entitlements for cranes, but additionally also in the daily work of any operator of this type of equipment.
Below we present the general subject of our trainings:
information on technical inspection for a given IS or II S category
information on specific devices - their construction and operation at the workplace
operator's responsibilities prior to commencing the task
operator responsibilities when performing work
operator's duties after finishing work with the device
principles of occupational health and safety in the position
practical classes - exercises on devices depending on the selected IS or II S category
The gantry course available at ODK ERGON is a class that prepares participants to take the exam before the commission of the Office of Technical Inspection in order to receive a certificate of the possibility to work as a crane. By choosing our offer, you can be sure that the information provided during the classes will be useful during the exam and will help in obtaining a positive grade. We have one of the highest passing rates, so you can take the crane exam with us without any major problems and obtain the appropriate qualifications the first time.
Gantry course - price
The price of the classes depends on the number of participants. It is agreed individually with the client. We provide attractive discounts for larger groups. Please contact us for an accurate service quote.
To participate in the course, the following requirements must be met:
18 years of age or older
delivering an occupational medicine specialist's opinion on the health condition enabling work as an operator
completed primary school for II S crane qualifications and completed vocational school in the technical direction for IS
Legal basis for training
Ordinance of the Minister of Economy of July 18, 2001 on the qualifications required for the operation and maintenance of technical devices (Journal of Laws No. 79, item 849).
By choosing our offer, you can obtain appropriate crane licenses for devices of various types. Our many years of experience and comprehensive solutions in the field of education, competent staff and continuous improvement make us a Center that enjoys great popularity among students throughout Poland. If you have questions related to our offer, we are always available - please contact us to discuss the details of the service, including obtaining a quote and booking a convenient date.
We cordially invite you to the crane courses at the ERGON Personnel Training Center!
More information: