Operation of warehouse stacker cranes
You will get the qualifications:
UDT qualifications for the operation of warehouse stacker cranes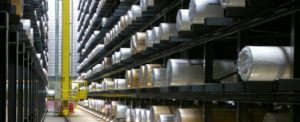 ERGON Personnel Training Center offers professional and comprehensive training for warehouse stacker cranes. We encourage you to familiarize yourself with their scope!
Stacker cranes are modern devices intended for handling (UTB), which are used in warehouses, including high-bay warehouses. They support warehouse workers by transporting loads.
As required by law, people involved in the operation and maintenance of warehouse stacker cranes must have the appropriate preparation, which can also be obtained during our course at ODK ERGON.
The courses on storage and retrieval stacker cranes offered by our centre provide comprehensive support for employees who have to operate and maintain this type of equipment. Through extensive theoretical information and practical workshop sessions, it thoroughly prepares you to take the exam and to acquire permissions.
During the training sessions, the following topics are discussed: the following topics:
basic information about warehouse equipment - stacker cranes, racks, loading units
construction and operation of warehouse stacker cranes, including mechanisms, electrical equipment and other components
Workplace of the stacker cranes operator and their maintenance technician
correct labeling of stacker cranes in warehouses
operating instructions for storage stacker cranes
work safety in warehouses using stacker cranes
technical supervision of warehouse stacker cranes
information on the authorizations needed to operate and maintain warehouse stacker cranes
The duration of the study is from 20 to 40 teaching hours.
The ERGON Personnel Training Center can also adjust the thematic scope of the classes for warehouse stacker cranes, depending on the expectations of customers.
We invite you to choose our offer at ODK ERGON!