Basic information about goods and goods-passenger lifts
Where and what are goods lifts used for?
Thanks to their simple and solid construction, they are used in many industries. Goods lifts are used to transport goods between floors in production and storage halls. Sometimes they are used on construction sites to transport building materials.
They are constructed in such a way as to facilitate transport as much as possible. People and cargo in the cabin move along the guides in the elevator shaft. This device is controlled by means of cranks, shifting gears or dispositions. Cranes are especially helpful in situations where heavy construction loads need to be safely moved or lifted.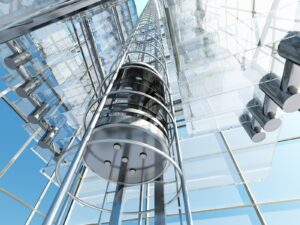 Cranes with electric and hydraulic drive
If we consider the type of drive, we can distinguish hydraulic and electric elevators. The latter are used in warehouses, shops, factories, bakeries, hospitals, etc. A wide range of elevator dimensions allows the device to be adapted to the requirements of the building in which it will be installed. These cranes enable the transport of tall elements.
A large electric goods lift requires an engine room above or next to the shaft. In electric lifts, the drive unit consists of a motor and a friction wheel that drives the ropes connected to the cabin frame and the counterweight. Due to its technical capabilities, a large electric goods lift will be perfect for the transport of bulky materials as well as machines and production devices.
Type of crane
Lifting capacity
[kg]
 [Speed

m / s]

Large goods
300-6000
0.5 - 1.6 and more
Goods and passenger
100-6000
O, 5 - 1.6 and more
There are also small cargo lifts used in libraries, banks, offices etc. to transport documents, food products, books and other small dimensions. Their advantages include:
Hydraulic cargo lifts can be found in hotels, clinics and places where traffic intensity is low or medium, because their work efficiency reaches 60 starts per hour and the maximum speed is 6 meters per second. They are used in buildings with several storeys. They are more often used in industry for the transit of massive loads and even for the introduction of an entire forklift. Their engine room is usually located on the ground floor next to the shaft.
The advantages of a hydraulic lift include the ability to automatically release blocked goods and people in the event of a power outage. Comparing them with electric lifts, a hydraulic crane is a cheaper solution.
Hydraulic lifts differ from each other in terms of maximum lifting capacity, speed and maximum lifting height depending on the intended use. Below is an overview of the different types of hydraulic cranes to illustrate the differences in performance.
Crane type
Maximum
lifting capacity
[kg]
Maximal
speed
[m / s]
Maximal
height
lifting
[m]
personal
up to 1600
1
30
hospital
up to 2500
1
30
trademark
up to 6000
0,4
30
no engine room
up to 1000
1
26
Goods lifts
This type of equipment is classified as handling machinery and is used to transport goods within a limited range. Goods lifts are covered by technical supervision. They consist of a platform sliding on a mast, with a structure that looks like a ladder. They are attached to a mobile chassis and lowered to the ceiling of the building. They are the most common means of transport for companies specialising in roof work.
Operating conditions of cranes
Lifting devices subject to technical inspection should be:
constantly maintain technical efficiency;
use in accordance with the instructions and intended use;
be maintained by persons specially trained for this purpose and having appropriate qualification certificates;
provide boards with information on the permissible loads;
How to get permission?
If you are interested in working with freight cranes, you can enrol on an operator course, which will provide you with the theoretical knowledge and key skills needed for this profession. With this qualification, you can get a better-paid job or apply for a promotion and raise at your current workplace.
After completing the training, the trainee receives a qualification certificate of the Office of Technical Inspection in one of two categories: construction and goods-passenger lifts, and goods-passenger lifts and service of goods-passenger lifts with internal control, as well as hospital lifts (they do not have cabin load control).
Trainings in the operation of cranes are carried out pursuant to the Act of December 21, 2000 on technical inspection. They are carried out in accordance with the Regulation of the Minister of Economy of 18 July 2001 on the procedure of checking the qualifications required for the operation and maintenance of technical devices.
Just like most UDT qualification certificates, e.g. for forklifts, gantry cranes, and cranes entitlements for goods and passenger lifts have a specified expiry date. From the date of successfully passing the exam, work in this position can be performed for 10 years, however, it should be remembered that the application for extending the validity of the certificate must be submitted 3 months before its expiry date. A necessary requirement for renewing licenses is a certificate that the work of a crane and elevator operator has been performed in the last 5 years.
What will you learn on the crane operator course?
The purpose of such training is to obtain qualifications and prepare for the state examination before the commission appointed by the Office of Technical Inspection. The course is intended for people employed in plants carrying out vertical transport with the use of goods and goods-passenger lifts. Candidates for crane drivers will learn about:
detailed construction of the crane
operating principles
crane duties
causes and effects of failure
technical inspection regulations
methods of maintenance of freight elevators
health and safety regulations
An employer who would like to train his employees in this field should take into account such characteristics as resistance to stress, a sense of responsibility or mental balance when selecting people.