UDT equipment maintenance course with a qualification exam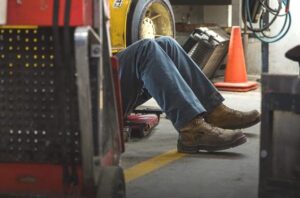 These are classes that allow you to acquire knowledge from scratch in the field of repairs and inspections of handling equipment. They are intended both for people who have not worked with this type of equipment before, and for those who work as an operator. Practical training completed with a state exam is a way to quickly supplement knowledge and obtain qualifications sought on the labor market.
The work of the UDT equipment conservator
A conservator of handling equipment is a person who is authorized to carry out repairs, regular technical inspections, as well as to prepare devices for acceptance by UDT. Such specialists are employed in large construction and transport companies, but they can also provide services on their own, as part of their business.
Handling devices
These are devices intended for the transport of people, tools and loads, working within a limited range. This category includes mobile platforms, overhead cranes, winches, cranes, stacker cranes, trolleys, and cranes. In accordance with the regulations, all of them are subject to technical supervision, and to operate them, you need a qualification certificate issued by UDT. For each of these devices entitlements is obtained separately as part of the relevant course.
Types of maintenance training
In our Center, we conduct the following courses with the UDT state examination:
Mobile platforms (platforms, aerial platforms)
Loading platformsincluding passenger transport
Hanging mobile platforms, masted and stationary
Platforms on railway vehicles
Equipment for the disabled
General and / or special purpose cranes
General and / or special purpose hoists and winches
Cranes: tower, self-propelled (cranes), portable HDS, stationary, rail and rail, shipyard and port, floating, on-board
Course for conservators of handling equipment - organizational details
Schedule
The scope of issues covered during individual trainings varies, but they have a common framework plan. The general curriculum for all types of devices is as follows:
Laws and regulations related to technical supervision of devices
Construction and operation of handling equipment - general information
Responsibilities of the maintenance technician in the field of inspections and repairs
Typical faults for a given type of devices and methods of their removal
Principles Health and Safety applicable to operation and maintenance
Using the manuals and technical documentation of devices
Issues related to the mechanical, electrical and hydraulic parts
Principles related to ensuring the technical efficiency of devices.
The duration of the course is approximately 32 to 96 hours, depending on the chosen topic and the experience of the participant.
Requirements for participants
The course is open to anyone who is 18 years of age or older, has basic education (or higher) and has a health condition that allows to perform the profession of a conservator. In the case of training for some devices, it is necessary to have knowledge (and / or qualifications) in the field of electrical engineering and others - details on this subject can be found in the descriptions of individual training courses.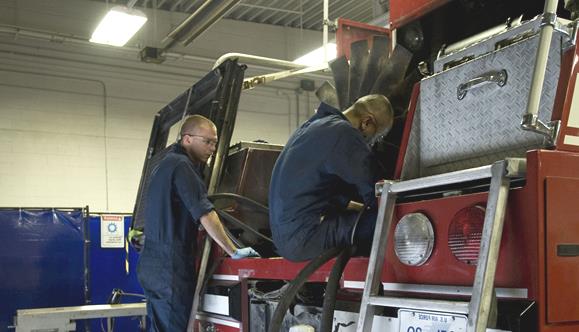 Examination for UDT qualifications
The state examination is conducted at the end of the course for those participants who have successfully completed the theoretical and practical parts. Our Center deals with organizational matters and exam registration on behalf of the students. The qualifications are checked at the seat of the Center or UDT (Warsaw or another branch). Qualifications are checked in the form of a knowledge test and an oral exam.
Persons who have passed the exam receive a qualification certificate issued by UDT in the form of a plastic card. It entitles to perform the profession of a conservator of devices covered by technical supervision in Poland.
Registration for training
To enroll in a selected course, please visit our website www.platformaedukacji.pl. There are trainings at selected dates and locations. Add the selected option to the cart and make the payment. In the case of the UDT equipment maintenance course, the price may vary depending on the date, place of classes and other factors.
We also organize training in this field for companies. Closed training can be conducted at the customer's premises or in another place of his choice. We are flexible in terms of deadlines. If you are interested, please contact us in this matter.