Maintenance of electric lifts
You will get the qualifications:
UDT authorisation for maintenance of electric lifts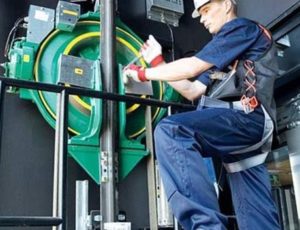 Take advantage of the training offer in electric lift maintenance at ODK ERGON!
Electric cranes are devices commonly used in the close transportation of people and goods. These cranes are subdivided into passenger, freight and hospital cranes and have a wide range of applications in various facilities. Those involved in the maintenance and operation of this type of equipment must have certain entitlements.
Training in the maintenance of electric cranes at the ERGON Centre consists of a theoretical part and a practical part, which are dedicated to the comprehensive preparation of candidates for the maintenance of electric cranes. Also people involved in the operation and technical supervision of these devices can benefit from these courses.
The class covers both the legal issues of equipment operation and authorisation, as well as their construction and maintenance. Participants also learn more about the practical aspects of working as a maintenance technician.
During the training sessions, the following topics are discussed: the following topics:
qualifications needed to work with electric cranes
basic legislation relating to the technical inspection of electric lifts
types of electric lifts - classification by purpose, control, type of drive
basic information on the construction of electric lifts
detailed information on components and assemblies of electric lifts - electrical, electronic, electromechanical
maintenance work on electric passenger, goods passenger and hospital lifts as well as building lifts
the most common failures and accidents related to the operation of electric lifts
Health, safety and first aid when working with electric cranes
The course time ranges from 48 to 88 teaching hours.
If required, it is possible to tailor the topics of the classes to the individual needs of the client.
We cordially invite you to take advantage of our offer training in ERGON Personnel Training Center!