Scaffolding fitter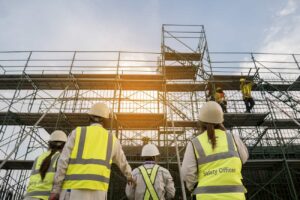 The scaffoldings built by qualified fitters are temporary structures made of vertical poles connected to each other. Thanks to their use, safe work at heights is possible. Movement of workers is possible thanks to horizontal poles and platforms placed on them. We classify scaffoldings according to the type of materials used for their installation - there are steel and aluminum scaffoldings. Due to the way of use, we can distinguish scaffolding:
stationary - used for work that requires a lot of time;
wheels - equipped with casters, they allow you to move from place to place.
Who is a scaffolding fitter and is it worth becoming one?
Only a person who has the appropriate documents can be the scaffolder responsible for the preparation of the site for the construction of the structure, the selection of auxiliary elements and the installation of the scaffolding itself.
The qualifications of the scaffolding fitter ensure easy and quick finding of a job, also abroad. People with these specialist qualifications cannot complain about the lack of job offers. The Polish construction industry is constantly developing, therefore there is no shortage of job offers for the position of a scaffolding fitter.
What is the responsibility of a metal scaffolding fitter?
The main responsibilities of the installer are:
selection of elements of the planned structure and checking their quality
preparation of the site for the installation of scaffolding
assembly and disassembly of construction scaffolding while observing the necessary safety rules
reading technical plans
auxiliary works
To take up a job in this position, you need to get an official one entitlements scaffolding fitter, which is obtained by approaching the state examination before a committee appointed by the Institute of Mechanization of Construction and Rock Mining, which is strictly responsible for mechanization and automation of industry, construction, road transport and improvement of assembly and measurement processes.
Education is welcome
Employers most willingly decide to employ a graduate of a vocational school with a construction profile. A category B driving license will be the advantage of an installer working in the field.
How much does a scaffolding fitter earn?
Data from January 2022 show that in Poland the fitter's salary is on average PLN 5,100 gross, but experienced fitters can count on a gross rate of up to PLN 6,300.
Alternatives for the installer
The demand for this type of specialists is still growing on the labor market, not only in the construction industry, but also in the event, energy and petrochemical industries, so contrary to the expectations of many people, this profession opens up many career paths. Scaffolding is used not only for construction or renovation works, but also at concerts and events - the stage also provides adequate lighting and visual effects that are installed at heights. So we can say that a scaffold fitter will find a job in almost every part of Poland.
Equipment for a qualified scaffold fitter
A professional installer uses individual protective measures and devices to prevent him from falling. The basic equipment includes:
Workwear
safe footwear (including non-slip soles)
protective helmet
protective gloves
goggles
Personal fall protection measures include:
safety harness
shock absorber with safety cable
carabiner