FIRE TRAINING FOR YOUR COMPANY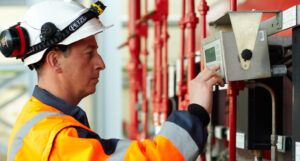 You have a business and you need to carry out the mandatory fire safety (FSP) and occupational health (Health and Safety)? View the offer ODK ERGON and learn about the possibility of implementing competent, high-level courses.
Pursuant to the current content of the Labor Code, and specifically included in Article 209, each company is obliged to provide its employees and other people staying at its premises with a sense of security, as well as the full possibility of preparing and organizing maximum protection against a fire outbreak and all its consequences. The most reliable method, the purpose of which is to reduce the risk of life as little as possible, are professional health and safety training and fire protection offered by the ERGON Center.
The aim of our training is to properly prepare all possible users of the office building for any kind of extraordinary circumstance and to raise competences in terms of organizing the maximum possible security. Our offer is directed to both small and large enterprises.
Practical curriculum
We want every employee to be well trained and thoroughly familiarized with the safety rules, which is why our ranks only include qualified instructors with complete knowledge of health and safety and fire protection, who share their knowledge by dividing the training into the theoretical part and the practical part. The scope of issues that we propose for the duration of the training is as follows:
information on fire hazards at the workplace
presentation of the workplace fire instructions
providing information on the location of fire equipment
principles of evacuation and fire marking
conducting evacuation and emergency procedures
principles of operation of handheld firefighting equipment
providing first aid to the injured
We offer training for employees with short experience, but also for those who aim to update and recall all relevant information. We adapt to the client's requirements and we are open to an individual course of study for individual people.
If there is no space for classes for employees, we have our own rooms, where we can conduct our training in as many as four cities in Poland: Warsaw, Krakow, Katowice, Bielsko-Biała.
Advantageous offer
The training we offer is to meet the legal requirement under the above-mentioned Labor Code, but also simply helpful knowledge every day. You will feel that the decision to take advantage of our offer may turn out to be even more beneficial for you when you contact us and hear in person how much you can gain from our joint cooperation. Contact us via the phone number below and you will find out about our pricing strategy, openness to negotiation, discounts for larger groups and even other services related to fire safety.