Construction Access Course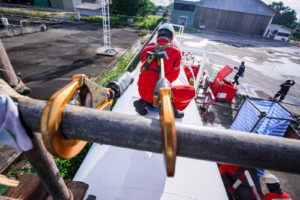 We invite you to the construction access course, organized by ERGON. We have been successfully educating professionals for over 25 years. The training is carried out in accordance with the BS 8454 standard. We help you get it in a professional and affordable way entitlements at heights in the field of construction access.
What is building access?
The training at heights, called building access, is addressed to all those who are exposed to falls from a height during their work. Work at height within the meaning of the Regulation of the Minister of Labor and Social Policy of September 26, 1997 on general occupational health and safety regulations with late d. (consolidated text: Journal of Laws of 2003, No. 169, item 1650, as amended) is work performed on a surface at a height of at least 1.0 m above the floor or ground level. We talk about working at height from 1m and from 2m there is an obligation to use PPE (personal protective equipment). This applies to all those who, while performing their official duties, are on elevations and those who, while working at pits, tanks, manholes or manholes, may be injured as a result of a fall from a height.
Construction access at heights is recommended to employees who use their own hands while performing the tasks entrusted to them, and PPE - PPE mainly to protect against falls from a height during work.
Works at height in the construction access are performed at:
power poles, trusses, masts, tower structures, chimneys, flat and steep roofs with different slopes, building structures without ceilings, scaffolding, ladders, lifts, platforms, platforms, galleries, brackets and other elevations and construction elements.
The construction access course is especially aimed at:
general construction workers
mobile phone employees
fitters
restorers
roofers
crews clearing the roofs of snow
water and sewage management workers
installers of photovoltaic panels
energy sector employees
to companies that want to outsource training of their employees
to people who want to change jobs and obtain new professional qualifications
The course program is extensive and provides comprehensive, theoretical and practical preparation for work in the field of construction access, which guarantees greater safety at work.
The practical part of the course is carried out on specially prepared structures that are the permanent equipment of the training center. Workshops during the training are carried out with the use of equipment such as: fall arrest systems, safety harnesses, connectors, shock absorbers, self-locking devices, low-stretch braided core ropes, safety lines, connectors, shock absorbers, industrial safety helmets.

Knowledge gained during the training:
characteristics of work at height and the associated hazards
general rules when working at height
organization of the workplace
ways of safe transport of tools and materials needed at work
selection and proper use of equipment adequate to the work performed
rules of tying knots, learning how to tie basic knots, the ability to assess the quality of their execution, learning how to anchor
safe operation and handling of the harness protecting against falling
ability to control the equipment used on an ongoing basis (inspections)
knowledge of CE marking
personal protective equipment against falls (PPE)
ability to act in accordance with the recommendations and instructions of the equipment manufacturer
use, control and storage of systems, system planning prior to commissioning
knowledge of the influence of weather conditions on the use of the system
the most common causes of accidents and ways to reduce their occurrence
knowledge of the fall protection system EN PN 363: 2008
ability to assess safety and risk when working at height
current standards and regulations regarding the safety of work at height
The duration of the training is 8 hours, including 5 hours of practice.
After completing the training, the trainee receives
Certificate confirming completion of ERGON training in Polish and English, honored in Poland and abroad, based on the BS 8454 standard. The center issues certificates in the form of: a plastic card with a hologram and image in English or paper in A4 format with a hologram and image (Polish- English). The certificates contain a detailed description of the obtained qualifications to work at height.
Requirements
To sign up for altitude course in the field of construction access, the following requirements must be met:
18 years or older
at least basic education
physical fitness to a degree enabling work at height
altitude tests issued by an occupational medicine physician
Course price
The resort offers a very favorable price for kuru. We have prepared attractive discounts for larger groups. A detailed price offer can be found here In case of additional questions please contact us at the number: +48 22 290 29 09 or email: biuro@platformaedukacji.pl our employees will answer them in detail.
Where are the trainings taking place?
Classes at the OSO center are conducted by certified instructors and highly qualified examiners. We conduct high-altitude training in construction access at the Training Hall of our OSO Operator Training Center in Warsaw Ursus at ul. Gierdziejewskiego 5 / 272A. The organizer provides food and drinks.
The center can also organize training at heights, e.g. for electricians at poles, in the location proposed by the client. If you have any additional questions, please do not hesitate to contact us. We encourage you to participate in our training!
Why is it worth training?
We have been successfully educating professionals in our center for over 25 years. We provide training to improve professional qualifications for adults to the highest standard in accordance with the ISO 29990 standard of education quality. such as: general construction works, painting facades and roofs, repair or snow removal from roofs. Obtaining a height license in the field of construction access gives you a variety of employment opportunities, both in Poland and abroad. We also encourage you to familiarize yourself with the offer of other mountaineering training courses organized by our center: rope access training and IRATA altitude training