Course for stationary mobile platforms
These classes are intended for people who want to work as an operator of stationary mobile platforms. Obtaining qualifications in this area requires passing the exam before the UDT committee. Trainings conducted by the Center's instructors are a reliable source of knowledge required for this exam. Additionally, they are a preparation for future operators for safe, accident-free work with devices.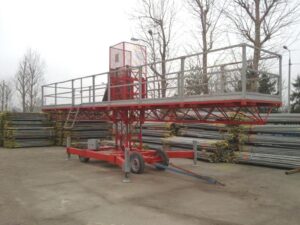 UDT qualifications for stationary platforms
According to the classification of the Office of Technical Inspection, stationary platforms belong to handling devices and are subject to technical supervision. Together with the suspended mobile platforms, they belong to the former category II P. Entitlements on stationary mobile platforms for operators, they are granted for 10 years, after which they must be renewed. The qualification certificate issued by the Office in the form of a plastic card is valid throughout Poland and required for employment.
The exam is carried out by the appropriate UDT commission (in Warsaw or a local branch of the Office) in the form of a knowledge test with closed questions, and then a practical test, during which an interview with the examiner at a given device takes place. The process of checking the qualifications is an integral part of the course - UDT conducts the exam on the set date.
Work for operators of stationary platforms
A stationary mobile platform is a device designed to work in one, designated place. It is not equipped with a mechanism to enable it to be moved. Despite this, it is quite popular: it is used in outdoor and indoor works. Application examples are:
Thermal power stations
Heavy industry
Renovation and maintenance works:
Production and maintenance processes
"Stationary mobile platforms" course - information
Framework training program:
Construction, types and applications of stationary platforms
Equipment operator's obligations during operation, before starting work and after its completion
Safety rules related to the operation
Technical inspection regulations in force
Practical
The training may be attended by adults, with at least elementary education, who have no health contraindications (a declaration of good health is required, and a certificate from an occupational medicine doctor is required for employment). It is not required to have experience in operating the platforms - classes are conducted from scratch or - if there is a group of willing people with more experience - in the scope adapted to the needs.
Depending on the group, the duration of classes may vary from 8 to 35 hours. The time needed for practical learning is determined individually with the instructor.
Information on the dates and locations of the courses can be found on our website. Up-to-date information can also be found on the website www.platformaedukacji.pl. There you can also sign up for classes and make payments.
In the case of stationary mobile platforms, we can also organize courses in a closed form, as training for company employees. To discuss the details, please contact us by e-mail or telephone.
We invite you to familiarize yourself with the offer of our other courses: mobile mobile platforms, self-propelled mobile platforms or lifting courses.