Altitude course
Qualifications for mountaineering work at height - Warsaw and the whole of Poland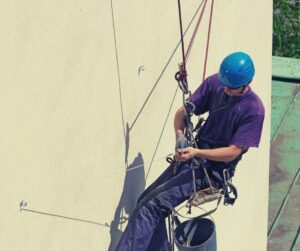 We encourage you to attend our professionally prepared altitude training. It is a specialist team of instructors, favorable prices and fully favorable conditions that are worth betting on.
In accordance with the Regulation of the Minister of Labor and Social Policy of September 26, 1997 on general health and safety at work regulations, work at height means all activities performed at least over one meter above the surface level.
During our training, each participant will be able to gain the necessary knowledge regarding the legal and organizational requirements in the case of working at height, as well as gain specific skills that will allow to recognize threats and assess risks while working at height. In addition, we train in the use of equipment intended for this type of work, and we provide appropriate knowledge in the field of safety, which is extremely important in such a case.
We provide a wide range of training, including:
law,
work efficiency,
safety at work at height,
familiarization with modern equipment,
belaying methods,
safety and risk assessment.
We invite specialists such as electricians, installers and fitters, as well as roofers, welders and people involved in snow removal from roofs to our professionally prepared training. This is a great chance to get the right one entitlements and ensure the best rights during the work performed.
Our training at height is a proposal for people who value safety and work efficiency. It is worth investing in such courses and ensuring the quality of the services provided. We encourage you to familiarize yourself with our full training offer and contact us. We will be happy to answer any questions or doubts. We invite all interested persons to our perfectly organized training.
altitude course
work at height
permission to work at height
mountaineering work
altitude rights
mountaineering course
industrial mountaineer
work at the height of entitlement
rope access
Deforestation
cutting down trees
high-altitude research
roof painting
safety harness
work at height warsaw
washing windows at height
snow removal from roofs
tree pruning
tree felling
Roof reparing
work at height OHS
work at the height of the requirements
work at heights above 3 meters
montage of advertisements
facade painting
work at heights
occupational health and safety work at height
work at height
facade cleaning
high altitude services
mountaineering services
leaving platforms at height
More information: