Rope access course for industrial purposes - compliant with BS 7985 standard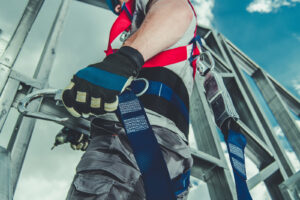 ERGON invites you to professional training in rope access for industrial purposes, meeting international standards. We ensure that our training coincides with BS 7985 (Code for the use of rope access methods for industrial purposes).
Why should you trust us?
ODK ERGON is an entity that educates high-level specialists in technical fields. We have existed in the educational services market continuously for 25 years. The knowledge gained during this time makes us experts in the implementation of training projects.
Our BS 7985-compliant industrial rope access course is a high-quality training product, involving resources such as:
qualified and experienced instructors,
full training infrastructure,
competent customer service specialists at every stage of cooperation,
modern teaching methods and solidly developed training materials.
We effectively and expertly train future industrial climbers!
What is industrial mountaineering?
Industrial mountaineering refers to a situation where a worker carries out work at height using rope access methods for industrial purposes. While performing the work, he or she is on a suspension and uses two independent ropes at the same time - a work rope and a belay rope. Their use is necessary for: establishing the worker's position during the work, ascending and descending from the workstation and belaying.
Strict safety procedures and specialised fall protection equipment are used to ensure the safest possible conditions for working at height. Climbing techniques are used when the use of other methods (e.g. construction access) is not economically viable, too risky or in cases where these techniques are the only feasible execution solution. Furthermore, rope access is an environmentally friendly method as it does not require the use of invasive access equipment.
The future industrial climber should be characterised by excellent physical fitness. Adequate training is also essential for this profession, the essence of which is to combine theoretical aspects with intensive training during practical classes.
What kind of work does a person with a mountaineering licence do?
A person with rope access qualifications for industrial purposes, while at height, can carry out work such as:
activities around high voltage poles, telecommunications towers and masts,
activities in the restoration of monuments,
cleaning of window and façade surfaces of high-rise buildings,
removing layers of snow and ice from roofs or other building elements,
carrying out reinforcement work on coastal cliffs,
cleaning, inspection and maintenance of platforms at sea,
assembly and renovation of reinforced concrete structures,
civil engineering construction work,
tree felling.
Rope access course for industrial purposes at ERGON
Our course is based on a system developed according to best practice, respecting the values disseminated by organisations such as OTDL, IRATA and SPRAT. It takes into account both international and national regulations in the area of work at height, including the EN 12841 standard. The course programme includes theoretical and practical preparation in the area of rope access at the same level as level (leveller) P 1/ L 1 according to the OTDL, IRATA or SPRAT skills classification.
As part of the practical part of the classes, skills training is carried out using specialised structures that are part of the equipment in our training centre. During classes, we use professional fall protection equipment, i.e. fall arrest systems, safety harnesses, connectors, shock absorbers, self-braking devices, low stretch braided core ropes, safety lines, industrial safety helmets. Students learn to use both temporary and permanent belay systems. Training takes place under strict compliance with safety rules for working at height.
The training programme includes:
dual rope handling system: working and belay ropes,
preparing the workstation and planning the activities,
rules for the daily inspection of equipment before use,
principles of equipment maintenance,
risk assessment of working at height,
principles of evacuation, self-rescue at height,
harmful factors at work at height,
current standards and regulations governing safety at height,
health and safety regulations in force during work.
Duration of training: 5 days + 1 exam day (total of 6 days of 8 h per day).
During the classes we focus on practical skills!
The certificate, which constitutes entitlements
A certificate of qualification for working at height with rope access is issued after passing an examination. It contains a detailed description of the qualifications gained. In accordance with the BS 7985 standard, it is issued in Polish and English. The certificate takes the form of a plastic card with a hologram and image in English and a paper document in A4 format with a hologram and image (Polish-English).
The qualification is recognised nationally and internationally.
Requirements for students
In order to sign up for altitude course with rope access for industrial purposes, each person should meet the following formal requirements:
completed age of 18 years,
at least primary education,
good physical fitness (to the extent that it is possible to work at height),
submission of a certificate from an occupational physician stating that there are no health contraindications to work in the position/under certain conditions.
Reasonably priced course with rope access for industrial purposes
ERGON cares about the high quality of its courses, but does not overprice! Our prices therefore remain competitive.
For organised groups, we have prepared attractive discounts.
Should questions arise, please feel free to contact us. Our training consultants will provide all the information, advice and help with the paperwork.
Information about the training venue
Rope access training at heights for industrial purposes takes place at the OSO facility - Operator Training Centre, located in Warsaw's Ursus at 5/272A Gierdziejewskiego Street. Practical classes, including instruction and training, are conducted in a specially prepared training hall equipped with highly specialised equipment, e.g. of the PETZL brand on a professional structure H=12m x W 7m X L10m, which meets the requirements for courses carried out by organisations such as OTDL, IRATA or SPRAT. The training infrastructure also includes industrial ladders, platforms and trusses, as well as approved anchor points (fixed belay points).
The organiser provides a meal and refreshments as part of the training.
Rope access training for industrial purposes at ERGON - why is it worth it?
Employees with industrial rope access qualifications are sought after by employers to carry out a wide variety of work, in places such as high-rise buildings, tall structures, monuments, cliffs, floating platforms and much more. Our training equips future industrial climbers with the knowledge and skills necessary to carry out the work they do safely and make the right decisions in emergency situations, and solidly prepares them for the exam.
We make every effort to ensure that cooperation with us is satisfactory. We ensure that we take care of a high level of education and convenience for the customer at every stage of cooperation in the implementation of training.
Welcome to our rope access course for industrial purposes! We implement it according to our own system taking into account the most important values for the industry, as expressed at ERGON:
attention to high safety standards when working at height,
improving rope access methods,
developing a code of best practice,
improving staff in the area of rope access.
If you want to get the qualification for yourself or are thinking of having your employees have it, we invite you to contact us. Choose