Personal protective equipment when working at height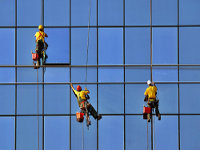 When working at height, it is necessary to use appropriate personal protective equipment to protect the worker from falls. These are selected individually depending on the type and conditions of the work to be performed at height.
Any person who completes
altitude course
, has information on what personal protective equipment must be used. The employer is obliged to provide his employees with the correct personal protective equipment free of charge. He should also inform them on how to use them.
Working safely at height requires the use of equipment that is specially selected, in good condition and regularly checked. An industrial climber will use different ones, while a roof-laying worker will use different ones.
Among the most common components of protective systems are textile ropes and tapes used in:
harnesses, including harnesses and lap belts
safety lines
dampers
self-clamping devices
self-braking devices
belt hooks
and other means of protection against falls from a height
However, it is important to realise that textile items are sensitive to mechanical damage due to the materials used and their structure. Therefore, those carrying out mountaineering and other work at height should pay particular attention to their correct use and to checking their condition.
Any employee who has entitlements for working at height should remember to read the equipment's operating instructions carefully, know the risks of damage to items used when working at height, and remember to check them regularly before each use. Personal protective equipment should also be approved.
More information: