Security procedures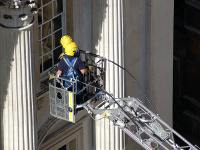 Each course on basket lift, scissor lift or other type of device covers safety issues and how to deal with a risk to the life or health of the operator and other users of the device. We outline the step-by-step procedure to be followed if a mobile platform or other type of device prevents the operator from getting out freely or even from communicating.
In such cases, the first action is to notify the relevant services immediately. At the same time, rescue measures must be taken, which include the following:
if the operator of the equipment cannot take control of the situation, then people on the platform, but only those with the appropriate knowledge and authorisation from their employer, can operate the control panel
if this is not possible, a person on the surface level may leave the platform, but only if he/she is familiar with the emergency lowering procedure, is authorised by a member of staff and knows the other safety procedures
Before lowering platforms such as self-propelled mobile platforms, mast-mounted mobile platforms, suspended access platforms whether mobile platforms and other types need to inspect the area on which they are located in order to remove any obstacles.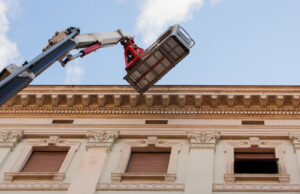 The device is best operated from the ground level, as it then allows precise operation, but the platform level can also be used, depending on the situation. The keys to the device should be in the possession of those responsible for carrying out the rescue operation when a malfunction or accident occurs.
Adequate training of employees in operating mobile platforms is a key element for occupational safety and if employees do not have the correct knowledge, then the risk of accidents at work is much higher. If you are planning to use mobile platforms in your company, a course at our Centre will be the best choice. We encourage you to take a look at our offer and take advantage of it!