Training of construction machinery operators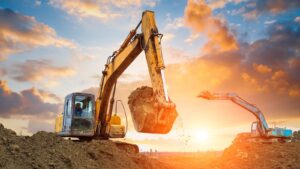 We invite you to specialized training for earthmoving machine operators and scaffolding fitter. Increase your attractiveness on the labor market and take advantage of the ERGON offer! Equipment used for heavy construction works help to improve and significantly accelerate the completion of the investment, but it is worth remembering that their operators should have the necessary knowledge and entitlements for their safe and proper use. Give yourself a chance to acquire reliable knowledge, which will translate into professional performance of professional duties in the future.
Purpose of the course
The training for construction machinery operators aims to provide participants with theoretical and practical knowledge in the field of safe operation of selected earthmoving machines and all aspects of the work of a metal scaffolding fitter. We provide preparation for the state examination before the examination committee appointed by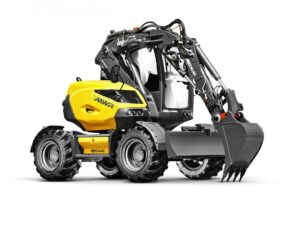 Institute of Mechanization of Construction and Rock Mining.
Detailed offer
The courses offered by ERGON are divided into theoretical and practical parts. If you are interested in participating in the 1st class specialization course, it is necessary to have 3rd class qualifications for a given type of construction machine. Our offer includes:
MACHINE NAME
CLASS
SCOPE OF POWERS
single-bucket excavator
III
single-bucket excavators with a total weight of up to 25 tons
AND
all types of excavators without limitations on total weight
single vessel charger
III
single-vessel loaders with a total weight of up to 20 tons
AND
all types of loaders without limitations on total weight
bulldozer
III
dozers with an engine power of up to 110kW
AND
bulldozers above 110kW engine power
backhoe loader
III
all types of backhoe loaders
road roller
II
all types of road rollers
The training program for individual machines assumes the acquisition of theoretical knowledge and practical skills. In the first part of the course, participants will learn about:
Technology of performed works

general information about earthworks,
working techniques with a given device,
technologies used during operation,
principles of safe operation.
During practical classes, students will learn about:
introductory instruction,
a job instruction,
the range of working movements of a given machine,
the range of movements of the accessories adapted to a given device,
the technique of moving around the construction site,
preparation of the workplace,
work with accessories,
detecting and removing minor faults,
preparation of operational documentation.
The thematic scope of the course for a scaffolding fitter
The course offered by ERGON provides knowledge on:
health and safety regulations related to the assembly and use of scaffolding;
creating technical documentation;
principles of constructing construction and assembly scaffolding from system and steel pipes;
technologies used in assembly;
technical condition control methods;
safe dismantling of scaffolding.
Practical classes include:
preparatory work carried out before the assembly of scaffolding;
exercises in assembling and disassembling tubular, modular and frame scaffolding;
inspection of the technical condition of the erected structure.
Who is the course for?
Participation in our course is recommended to people who need to obtain qualifications in the field of operating an excavator, loader, backhoe loader, bulldozer and road roller. We require candidates to be 18 years of age and a medical certificate stating that there are no contraindications to work in this position. In addition, people who want to participate in the training for scaffolding assembler are required to have a valid medical service with the possibility of performing work at a height of more than 3 meters.
If you have any questions about our offer please contact us - our employees will be happy to help you clarify any doubts.
We encourage you to choose our services!