Service of lifting slings
You will get the qualifications:
UDT qualifications for the operation of crane slings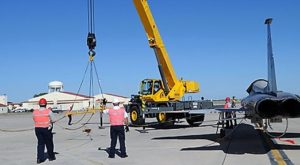 ERGON Personnel Training Center invites you to take advantage of the courses on the safe operation of crane slings (overhead cranes, hoists, winches and cranes)!
Cranes are devices commonly used as material handling equipment (UTB). They can be equipped with various types of slings allowing to carry many types of loads. The selection of appropriate slings is responsible for the safety of transport - devices, loads and people involved in it.
The training organized by our ERGON Center is focused on the selection of the best types of crane slings. It is intended for persons responsible for the operation of cranes, including employees wishing to obtain entitlements hook and / or whistleblower. Classes are organized according to the principles of the international standard ISO 23853/2018 - training of hooks and whistleblowers.
During the classes, we discuss key topics related to hook work. We place emphasis on the transfer of theoretical knowledge, as well as conduct practical exercises related to lifting gear.
During the training sessions, the following topics are discussed: the following topics:
information on the authorizations needed to operate cranes and slings
general information on cranes - construction, operation
selection of appropriate slings for cranes depending on the type of load, crane working conditions and other factors
types of crane slings - steel rope slings, chain slings, synthetic fiber slings, special purpose slings
proper operation and construction of crane slings - hook duties, signaling, control - slings inspections
requirements Health and Safety when handling slings
The duration of the course is from 7 to 15 teaching hours.
The ERGON center can also adjust the scope of topics to individual customer requirements.
We invite you to take advantage of our training offer covering the subject of crane slings!