Work at height - basic information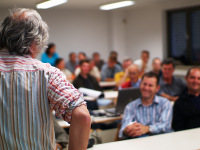 Work carried out at height counts as particularly dangerous. This is mainly due to the fact that falls from height are one of the most common causes of serious and fatal accidents at work. Consequently, special precautions must be taken when working at height.
Within the meaning of the Regulation of the Minister of Labour and Social Policy of 26 September 1997 on general provisions on safety and hygiene of work, as amended. (consolidated text: Journal of Laws of 2003, No. 169, item 1650), work at height is performed on a surface at a minimum height of 1 metre above ground or floor level.
Work at height does not include:
work, irrespective of height, on an area screened on all sides by solid walls or with windows glazed to a height of at least 1.5 metres
work, irrespective of height, on surfaces fitted with other devices or fixed fall protection structures
An employee working at height should undergo appropriate altitude course. Courses of this kind are organised depending on the type of work to be carried out, for example, such as mountaineering work. In such cases, the following are used entitlements heights awarded upon successful completion of an examination.
Working at heights of up to 2 metres
On surfaces at least 1 metre above ground or floor level, railings with guard rails at least 1.1 metres high and with a kerb at least 15 centimetres high should be installed. There should be a crossbar or other space between the handrail and the kerb to prevent people from falling off.
When it is not possible to install a guardrail, then special measures are used to protect workers from falls. These measures are tailored to the conditions and type of work.
When carrying out work on ladders, braces, scaffolding and other elevations up to a height of 2 metres, ensure that they are stable, sturdy and protected against unexpected changes in position. Work platforms should have sufficient surface area, a level and firmly fixed floor and should be marked with information on the permissible load.
Work at a height of more than 2 metres
When working on scaffolding at a height of more than 2 metres from the floor or ground and on mobile hanging platforms, safe vertical communication and access to the workstation, the stability and strength of the scaffolding must be guaranteed.
Work on masts, poles, tower structures, chimneys and other structures without ceilings, when dismantling scaffolding where rope access is used, and when working on ladders and brackets at a height of more than 2 metres must:
check the technical condition of structures or equipment before starting work, including their strength, stability, protection against unexpected changes in position
provide fall protection equipment and safety helmets to make working at height safe
The above requirements also apply to work on platforms, landings, galleries and other types of elevations where the performance of duties requires leaning over the edge of the equipment or railing, as well as assuming a position that poses a risk of falls from height.
More information: