Maintenance of loading platforms, including passenger transport
You will get the qualifications:
UDT authorisation for maintenance of loading platforms, including passenger transport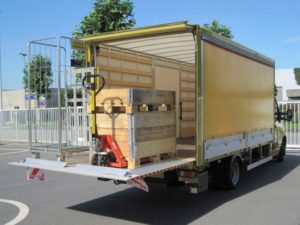 ERGON Personnel Training Center invites you to take advantage of our training offer on loading platformsincluding passenger transport!
Loading platforms (loading platforms, including those for the transport of persons) are commonly used handling equipment that are subject to technical supervision regulations. They are used to transport various types of loads, including palletised loads. This type of platform is operated by, among others, drivers of delivery trucks and maintenance operators of loading platforms.
Our training courses on the maintenance of loading platforms, including those for passenger transport, present comprehensive information in theory and practice. These classes deal with loading platforms used for mounting on vehicles, semi-trailers or trailers. They discuss in detail the regulations related to these devices, as well as those related to their daily operation, technical supervision, maintenance work.
During the training sessions, the following topics are discussed: the following topics:
legal basis for technical supervision
types permissions required to work with loading platforms, including passenger transport
components for the construction of loading platforms, including, inter alia, electrical and mechanical parts
correct principles for the operation of loading platforms
duties of the loading platform maintainer
defects occurring during the operation of loading platforms, together with methods of correcting them
Health and safety at work and first aid regulations in emergencies related to the maintenance of loading platforms
The course duration ranges from 48 to 88 teaching hours.
Our ERGON Centre can also adapt the topics of the classes according to the individual expectations of the client -. please feel free to contact us for more information.
Take advantage of our offer at ODK ERGON!