Maintenance of jacks mounted on the vehicle, the so-called hook lifts and skippers
You will get the qualifications:
UDT qualifications for the maintenance of jacks mounted on the vehicle, the so-called hook lifts and skippers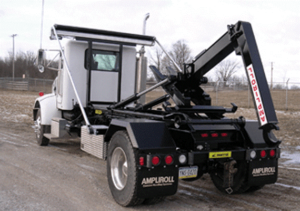 ERGON Personnel Training Center encourages you to take advantage of the course offer for vehicle-mounted hoists - hook lifts and gantries!
Vehicle mounted jacks - hook lifts and gantries are handling devices (UTB) with a wide range of applications in loading and unloading many types of property, including concrete, metal and wood elements. Due to the fact that they are located on vehicles, it is possible to use them in various areas - also where there is no access to this type of equipment.
The use of jacks mounted on a vehicle requires appropriate theoretical and practical preparation and obtaining the required qualifications issued by the Office of Technical Inspection - UDT.
Our ERGON Center invites you to professional and comprehensive classes on the operation and maintenance of the above-mentioned devices. We provide theoretical information and organize practical exercises, solidly preparing our students to take the exam and obtain the appropriate qualifications!
During the training sessions, the following topics are discussed: the following topics:
main information on technical inspection of jacks mounted on cars - technical inspection, entitlements, documentation
information on the construction of jacks mounted on cars - elements of hooklifts and gantry structures
proper handling of jacks mounted on cars
maintenance of car mounted jacks
regulations Health and Safety and first aid in case of emergency
The duration of the course is from 38 to 68 teaching hours, including the UDT exam.
The ERGON Center offers the possibility to individually change the scope of classes depending on the client's requirements.
We cordially invite you to choose the offer available at the ERGON Personnel Training Center!