Maintenance of cableways and ski lifts
You will get the qualifications:
UDT qualifications for the maintenance of cableways and ski lifts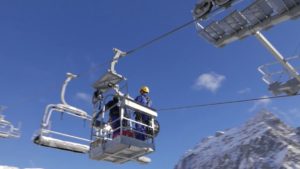 ERGON Personnel Training Center invites you to take advantage of the training offer as part of the operation - maintenance of cableways and ski lifts!
Cable cars and ski lifts are transport devices that allow people to move with the use of gondolas, carriages or chairs on a designated cable track running over a given area. Railways of this type are also used for the transport of goods.
To conduct activities with cable cars and ski lifts, you must have appropriate preparation, which can be obtained during the appropriate training conducted by our Center.
The course for conservators and people involved in the operation of cableways and ski lifts at our ERGON Center is a comprehensive class combining theory and practice.
During the training sessions, the following topics are discussed: the following topics:
types of handling equipment - cableways and ski lifts
basic information about technical supervision regarding cableways and ski lifts
types permissions needed for the operation and maintenance of cableways and ski lifts
construction of circular overhead ropeways
construction of ski lifts
duties of the personnel operating cableways and ski lifts - traffic manager, driver's mechanic, station operator, railway maintenance technician
information on the safe use of cableways and ski lifts, including the correct evacuation of passengers
preparation of regulations for passengers
The duration of the classes is from 30 to 60 teaching hours.
Our Center can also adjust the scope of education to the individual needs of the client. Please contact us for more information.
We invite you to take advantage of the ODK ERGON offer!