Operation of general or special purpose hoists and winches
You will get the qualifications:
UDT license to operate general or special purpose hoists and winches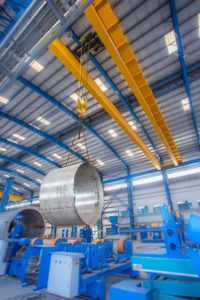 ERGON Personnel Training Center offers training for hoists - see the thematic scope of our classes!
 Hoists are material handling equipment (UTB) used in the transport of various types of goods. To operate and maintain them, it is necessary to have the appropriate course and qualifications.
The classes on hoists conducted by ODK ERGON include theoretical information and workshop exercises - practical with the above-mentioned equipment. They prepare participants to take the exam on entitlements operator or maintenance technician of the hoist, and are intended for all persons involved in the operation of these devices.
During the training sessions, the following topics are discussed: the following topics:
technical inspection of hoists and winches, including documentation, standards, authorizations needed to operate them
general information about hoists - technical parameters, types of hoists and winches, their application, marking
construction of hoists - assemblies and elements, including motors, mechanisms, safety devices
reloading equipment used for hoists - types of slings and other components
proper operation of hoists - tasks and responsibilities of the hoist operator
the most common failures of hoists
Health and Safety when working with hoists
The duration of study is 10 to 20 teaching hours with the UDT exam.
Our Center can also adjust the thematic scope of the lessons to the individual requirements of our clients.
We cordially invite you to take advantage of our offer as part of the hoist courses and we encourage you to familiarize yourself with other services at ODK ERGON!