Rotary motion cabin and chair conveyors for leisure and entertainment purposes
Powered conveyors are commonly referred to as carousels. They can be found, among other things, in amusement parks, such as the Ferris wheel or roller coasters. They also serve as mechanisms for tourist lifts on the slopes. Anywhere I have to do with cabins hanging on ropes or moving on rails.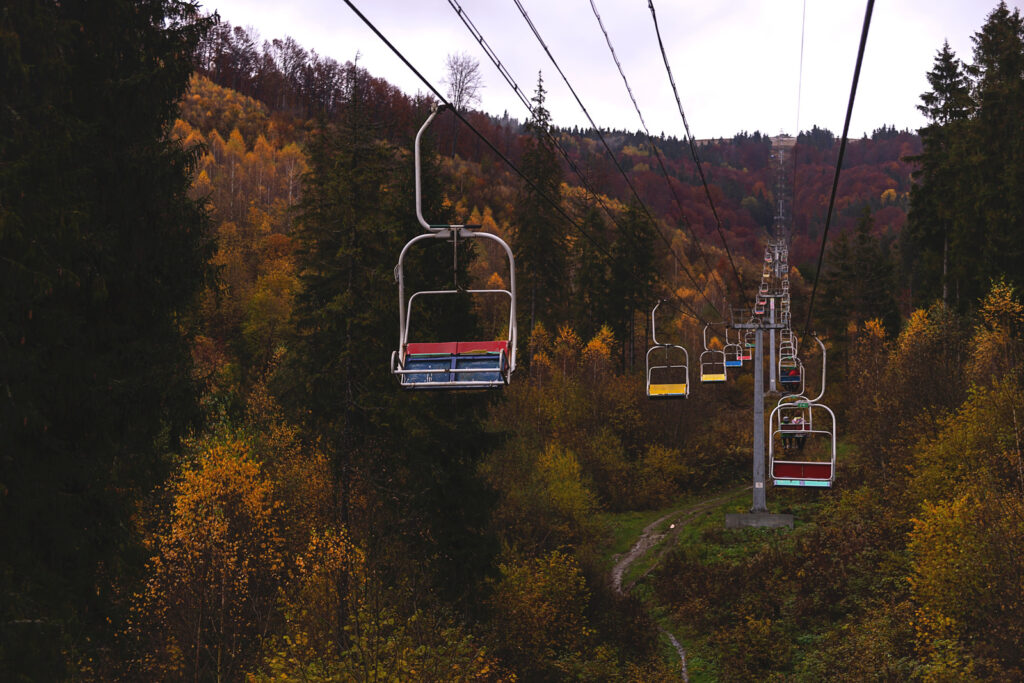 Cabin and chair conveyors are devices that are part of rope transport and include:
circular cableways,
shuttle cableways,
pulse cableways,
chairlifts,
gondola and open gondola cableways,
funicular railways,
single-rope and double-rope railways.
All of the above types are classified as overhead railways. In addition to these, we also have doubled-rope and ropeway-terrain railways.
Like any machine, regardless of its intended use, one of the most important requirements of its use is safety, and they require constant technical inspection and maintenance.
When the equipment is in use, it is subject to ad hoc checks ordered by the Technical Inspection Authority, and these are:
periodic inspections - equipment under full supervision, the time limit is determined individually for each type,
inspection tests - equipment subject to limited supervision, the time limit is set individually for each type. Ba it checks compliance with the provisions on technical supervision,
ad hoc operational - carried out at a time to suit current needs,
ad hoc post-accident or emergency - in the event of a dangerous damage or accident related to use. They are carried out to determine the cause of the problem and prevent it in the future.
In addition, the operator of the machine (in this case, the person controlling the attraction, letting people onto it) is obliged to check the efficiency of the machine before, during and after operation.
We offer training for anyone wishing to take up maintenance work in this particular field.
The course includes theoretical and practical classes, by training the acquired knowledge on sample equipment.
Scope:
construction and operation of conveyors,
general knowledge of UDT,
general knowledge of conveyors,
possible danger during work (transport of people),
correct operation of the equipment,
technical condition assessment,
dealing with faults,
proper maintenance of the appliance,
familiarisation with technical documentation,
regulations Health and Safety.
The course programme is in accordance with and approved by the UDT. On completion of the training course, the participant takes an examination and a positive result means that the participant is approved for the issue of a permissions for the maintenance of lifts intended for leisure and entertainment purposes. Such a person can work in amusement parks, at ski lifts and anywhere else where rotating cabin lifts are used.
Requirements from participants:
at least 18 years of age,
at least basic education,
no health contraindications to work in the position.
Training takes place at our centre or at the client's premises.
If you have any questions, please do not hesitate to contact us.
Questions and answers
What are cabin conveyors?

Otherwise known as carousels, these are the revolving booths most commonly found in amusement parks or on mountain lifts where we have to transport people, whether for tourism or recreation.
What are the responsibilities of the conservator?

The task of the maintenance technician is to ensure that the machine is in good working order. Regular checks to check the efficiency and safety and to look after the mechanism of the machine are essential.
Where can a cabin conveyor maintainer work?

Wherever you encounter revolving booths, it is most often in amusement parks such as the Ferris wheel or ski lifts.