Maintenance course for equipment for the disabled: platforms and lifts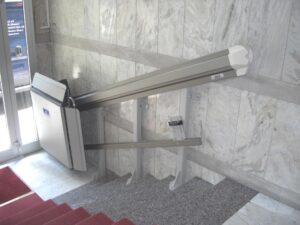 Platforms for transporting people with reduced mobility are installed in places with architectural barriers: stairs, narrow doors or thresholds. They enable a person in a wheelchair or on crutches to get to the higher floors of a building: home, office, clinic or university. Lifts are a type of hydraulically or electric powered crane. They are classified as handling devices and, in accordance with the regulations, they are subject to technical supervision. This means that in order to be able to carry out repairs and maintenance works on such devices, you must have a certificate issued by the Office of Technical Inspection entitlements.
We invite you to take a course, the completion of which, together with a passed state examination, will enable you to obtain such qualifications. Thanks to this, you will be able to work as a maintenance worker for handling equipment in any company or plant specializing in the repair of this type of equipment.
The program of the course of maintenance of devices for the transport of disabled people
The training consists of a theoretical part - lectures and a practical part. Our instructors have experience in conducting classes for future conservators, they provide knowledge in an accessible and activating manner. During the classes you will learn, among others:
What are the types of platforms for the transportation of disabled people
How electric and hydraulic powered devices are built
Typical faults faced by conservators of handling equipment
Regulations related to the maintenance of equipment for the disabled
Duties as a conservator of handling equipment
Principles Health and Safety and first aid in case of accidents and emergencies
After the lecture, participants take part in practical classes, during which they learn about the construction of transport platforms, learn about the safety rules of operation and learn methods of repairing the most popular faults.
The standard course lasts from 38 to 96 hours, but this time may be shorter for people who have already worked with handling equipment. Such people may need less time to study during the practical part. It is agreed individually with the teacher.
Examination for UDT qualifications
The course is a preparation for work as a maintenance technician, but its completion is not sufficient to be able to work. According to the regulations, the conservator must pass the examination carried out by the UDT and only if the result is positive, he receives the appropriate qualifications.
The exam is organized by the Center in cooperation with UDT. This means that students do not have to register for an exam at a branch of the Office. The written (test) and oral exam is carried out on the date specified by UDT, to which the dates of our training courses are adjusted.
With qualifications, you can perform repair, maintenance and mandatory technical inspections of all types of equipment for transporting disabled people.

Requirements for participants
We invite all people who are 18 years of age or older, have completed at least primary school and have no health contraindications for practicing the profession of a conservator.
In order for the training to be fully effective, we require the participants to have basic knowledge of mechanics, machine science and electrical engineering.
Practical information
Maintenance training courses take place on a regular basis at different locations. We have branches in several large cities, and our headquarters is in Warsaw. We also conduct closed training for companies - in the case of such training, the date and place are adapted to the needs of the employer and employees.
If you would like to take part in the course and obtain the qualifications of a restorer, we invite you to book a place on our website www.platformaedukacji.pl. There you will find current training dates with locations, prices and other details. Payments can be made via the PayNow or BLIK system, such as Przelewy24.
If you have additional questions or doubts, please contact us by phone or e-mail.