What is altitude mountaineering?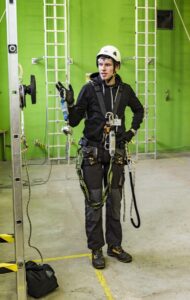 Prace wysokościowe to prace alpinistyczne, więc należą do bardzo niebezpiecznych. Wymagają sprawności fizycznej, specjalnego wyszkolenia, a przede wszystkim wiedzy. Alpinizm przemysłowy w dostępie linowym to rodzaj pracy, który pozwala na używanie technik linowych. Potrzeba zatem specjalistycznych umiejętności, aby nie doszło do niebezpiecznego upadku. Aby zacząć działalność w dostępie linowym potrzeba konkretnego przeszkolenia. Kurs z dostępu linowego oferowany jest między innymi przez ERGON. Eksperci są kształceni już od 25 lat. W profesjonalny sposób można zdobyć entitlements mountaineering. Two ropes are used in rope access: safety and working ropes. Industrial mountaineers are indispensable in the professional market, because only they, after receiving appropriate training, can perform difficult work professionally and safely.
Who are the trainings for? E.g.:
Steel structure fitters
Large format advertising editors
Building facade painters
Cleans the windows of skyscrapers
People serving telecommunications masts
To enroll in a rope access course you will need:
 18 years or older,
physical fitness enabling work at height,
primary education.
undergoing high-altitude research.
Why is it worth training?
Person trained in rope access he will find a job without any problems, both in Poland and abroad. You can find employment in various areas of industry, e.g. energy, mining, construction, and mobile telephony.