After work
Activities after the crane
When working with overhead cranes, it is essential not only to be properly prepared for the task and to handle the equipment correctly during transport, but in addition any employee who has a entitlements on the cranes, he needs to know what work needs to be done after the work is completed.
All of the following must be carried out by each operator of the equipment after each working shift. Their omission can cause serious accidents at work. Compliance with regulations Health and Safety on the position of the crane operator is crucial, as this equipment often poses a serious risk at the plant workplace due to its size and the weight of the loads it carries.
Key post-work activities:
checking that no loads are left on the load carrier - if so, they must be removed and placed in the correct place according to regulations
lift the loading device to the indicated height so as not to impede the movement of workers, vehicles below - this is usually around 2.5 metres, but is usually determined on a case-by-case basis depending on the type of device and the workplace
place the equipment in a stationary position so that it does not interfere with other work on the site
press the emergency stop button on the device
disconnect all controls on the control panel
turn off the unit's power supply using the unit's main power switch
the wind brakes must be secured if the equipment is fitted with them
if the device is equipped with an electromagnet, it must be lowered to the ground
before leaving the workplace, visually inspect the equipment thoroughly and look for any mechanical damage or leaks of operating fluids
the device must be secured against unauthorised use
in the event of any malfunctions in connection with the operation of the equipment, inform your supervisor immediately, as well as other operators if possible
at the end of the shift, sign in the log book, which results in the handover of the equipment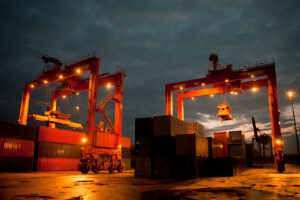 It should be remembered that when a crane is taken over by the next shift, the current crane driver must hand over the crane to the next crane driver. If this is not possible, then the crane driver may only leave his job with the agreement of his immediate supervisor.
Choosing crane course in our ERGON Personnel Training CenterYou will receive all the key information relating to the operation of the equipment presented. Our instructors not only provide you with the information in the form of theory, but also verify it during the practical exercises that are organised with the equipment. It is during these exercises that you can familiarise yourself thoroughly with all the procedures that need to be followed before, during and after work. You are welcome!