How does a harness work?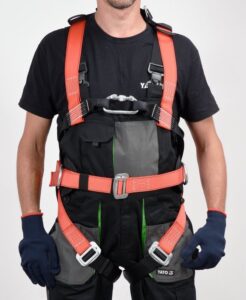 Safety harness is an indispensable element of the work of all operators of mobile platforms. A safety harness is a basic part of equipment that protects against falls from a height. In addition, it also includes: a connecting and shock-absorbing subassembly, connectors in accordance with EN362, equipment anchor point in accordance with EN795. Fall protection equipment is designed to protect a person who works in a place where there is a possibility of a fall. In places where other methods of protection cannot be used, i.e. safety nets, organizational solutions, protective barriers, elimination of staying in a danger zone or group security. The harness is an exceptionally approved device that holds the user's body. Used in equipment that protects against falls from a height. Colloquially also known as safety harness. They must comply with EN 361. They are made of textile tapes sewn in a specific way and connected with adjustment and strapping buckles.
The safety rules that apply when working at height and the rules for their application are regulated by the Regulation of the Minister of Labor and Social Policy. Pursuant to this regulation, the harness should be used when working at a height defined by work performed on a surface that is at least 1.0 m above ground level.
The safety harness is used in accordance with the instructions included in each individual set. Regular equipment inspections are essential, as well as proper storage and maintenance. In the set with safety shoes, glasses and a helmet, they are mandatory equipment for the operator.
Any individual equipment that is designed to protect against falls from a height, incl. safety harness, must have a use card intended to record information, ie equipment serial number, production date, user name, date of commencement of use, etc. It must also contain information on the withdrawal of equipment from use and entries relating to periodic inspections. The equipment should not be used without a complete usage sheet. All data can be entered only by an authorized person. After the harness has been put into use, it should be inspected regularly, at least every 12 months. They are performed only by people who have the knowledge and experience needed to properly assess the condition and proper operation of the protective equipment. Inspection of equipment for working at height is equally important, and before each use of the harness, regardless of its condition, the equipment should be inspected. It is worth noting that when performing this activity, you should make sure that there are no abrasions or mechanical damage that could endanger the safety of work at height.
Nowadays, many centers offer training that allows you to perform the harness inspection yourself. Obtained entitlements they are in force in most countries around the world that accept licenses issued by the IPAF organization. Course participants can learn how to safely use, select and check the harness while working on lifts. Additionally, they learn the proper inspection of equipment for work at height, which is very useful in work where it is so important to follow safety rules.