Mountaineering training in rope access techniques
The profession of the future - industrial climber
The development of the construction industry and, above all, of technology, has sparked the emergence of newer and newer occupations, including dangerous ones. Industrial climbing is considered to be one of the most difficult, and at the same time very risky, jobs that can be performed. Working at height is accompanied by difficult weather conditions, during which the worker has to be particularly careful not to make a mistake.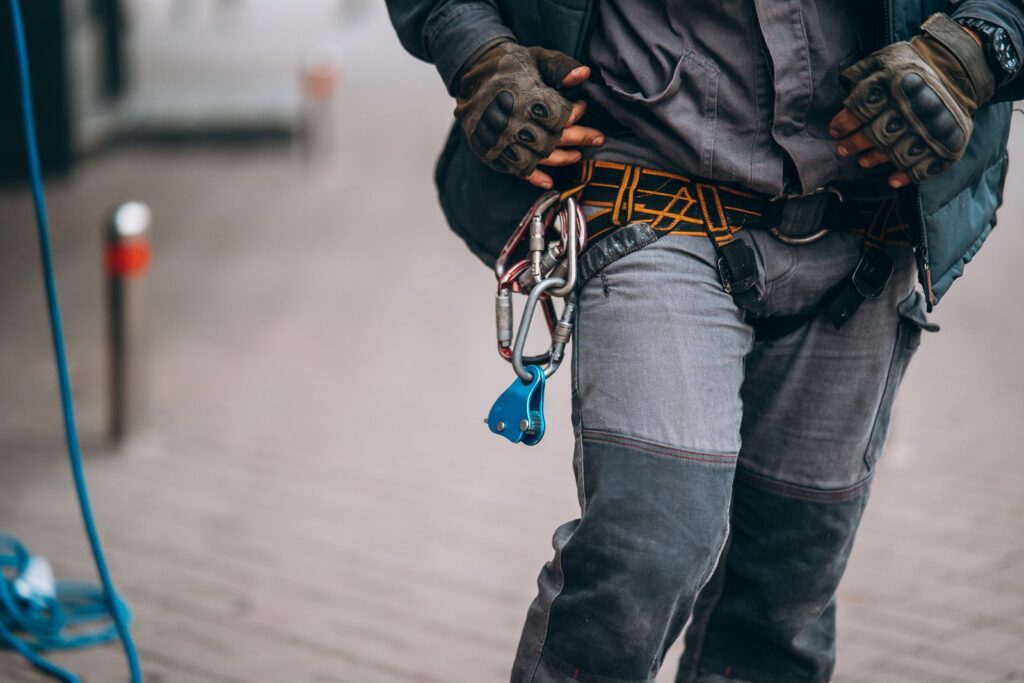 Working at heights is essential in many industries and many places. Whether you are renovating roofs, repairing power lines or hanging advertisements, you need a mountaineering licence. In order to obtain the necessary information, not only theoretically but also practically, it is necessary to take a comprehensive rope access training course. Obtaining the necessary theoretical information and practical skills requires taking a comprehensive rope access course. This is the kind of training we offer.
Training in working at great heights on a rope
Such training helps to prepare workers for work at height, where a temporary work area must be reached by descending or climbing a rope. In such situations, not only safety equipment is used, but also one used for rappelling or rope climbing. The course also includes training in evacuation from height in the event of an emergency. The training courses offered at our company can be joined not only by those who are interested in working at heights, but also by those who would like to supplement their already acquired knowledge in this area.
Purpose of the training
Working at height carries many risks. It requires each member of the team to be focused, but also to follow strict rules. Everyone working at height should be aware of the risks that this profession entails. With training from our company, you will learn how to recognise hazards and how to react in critical situations to minimise the risk of accidents.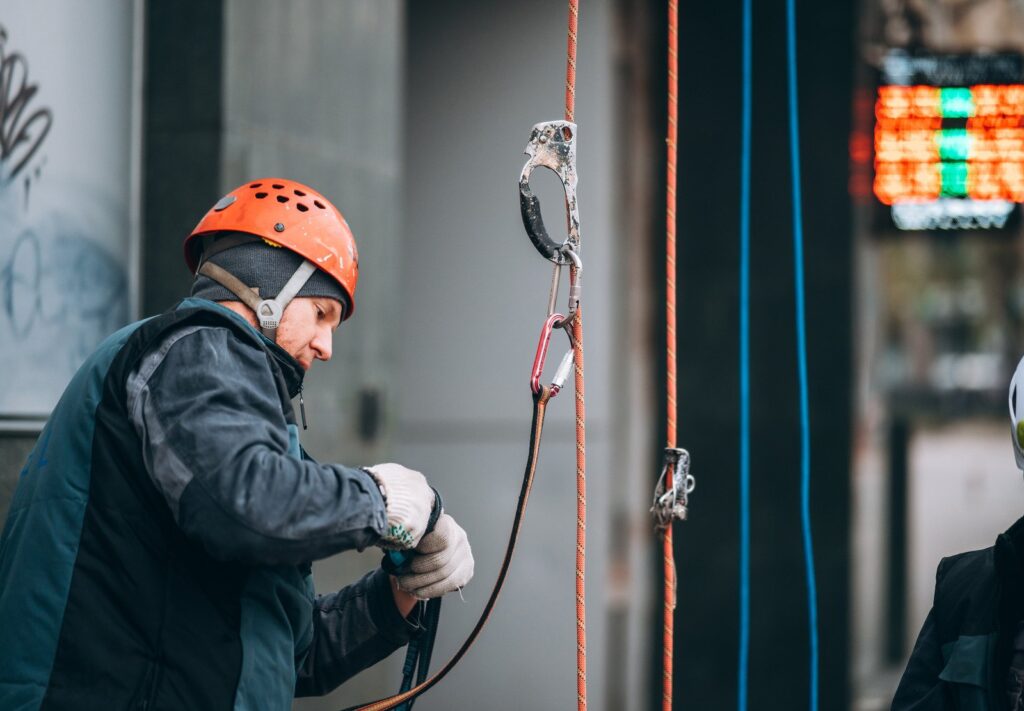 The mountaineering course is designed to make those working in your company aware of the many factors that affect work safety. During training, we impart knowledge not only in theory, but also in practice. As a result, we are able to provide the necessary information in a primarily comprehensible and factual manner. In addition to this, height training helps you to understand the specifics of working above various objects, equipment and structures. An important part of it is learning about the law, which defines the rules of protection against falls. Mountaineering training in our company also covers issues related to the construction of belay systems and their effective use.
Mountaineering training programme
Altitude courses organised by our company are conducted in two parts, theoretical and practical. Their programme includes information on available safety systems and formal and legal issues related to work safety.
The mountaineering course trains in the practical use of specialised equipment, which includes, but is not limited to:
handrail ropes,
snaps,
dampers,
safety ropes.
During the instruction, we also demonstrate how to use anchoring, self-locking and self-locking devices.
Through the knowledge gained during the training, but also through practical skills, trainees improve their competence and increase safety in their workplaces. A height course should be an integral part of health and safety training for companies working at height.
Job prospects for industrial climbers
When applying for the position of industrial climber, experience is welcome but not a prerequisite for employment. It is, however, mandatory to have the relevant qualification. In order to obtain the above, a candidate for this position must complete altitude training and pass an examination.
Having the right to work at height is essential if you want to work in occupations such as:
builder,
stuntman,
power line maintainer,
telecommunications line maintainer,
person cleaning windows at height,
a person involved in painting the facades of buildings,
oil rig worker.
The demand for professionals in the field of industrial mountaineering is currently high and growing. It is therefore worth considering working in this sector.
Rope access
Rope access is a particular form of supported work performed in suspension. It is characterised by suspension in front of two independent rope systems. One acts as access, the other as a form of protection in case the first fails.
Mountaineering training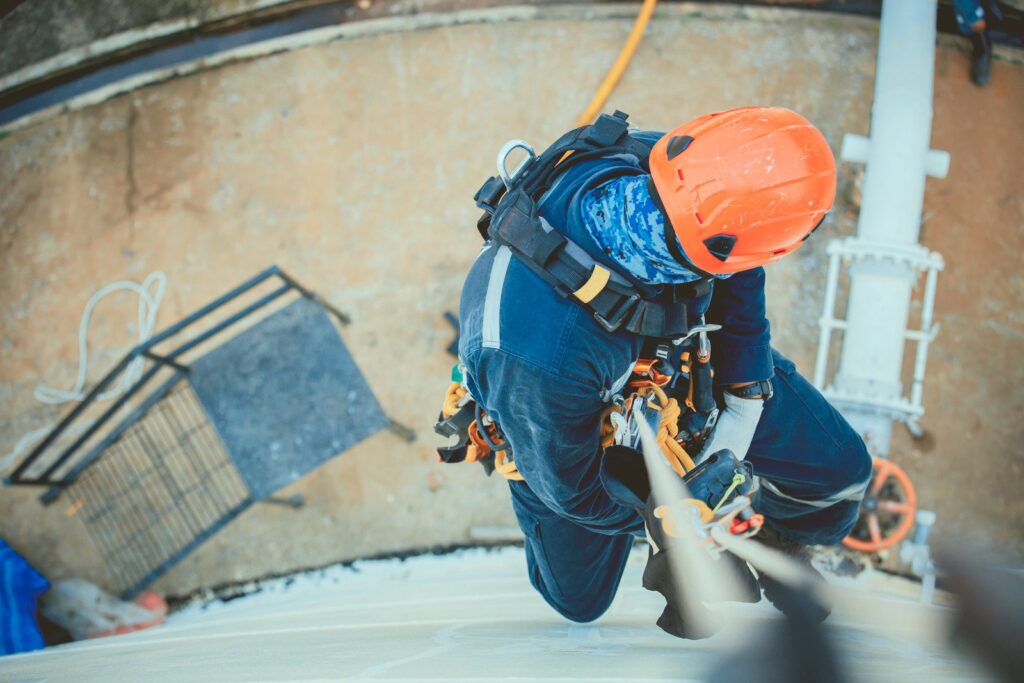 Rope access training, through the correct rope attachments and techniques used, allows the most inaccessible positions to be reached safely and precisely.
Linear access will be used in almost every area of the industry. Sometimes it is the only possible form of intervention work. The development of linear access has given rise to national organisations, linear associations. These include:
OTDL - Poland,
IRATA - UK, 
FISAT - Germany,
SOFT - Norway,
ANETWA - Spain,
SPRAT - United States.
The models of mountaineering training in the above-mentioned organisations are very similar. They differ in their approach to the formal and legal subject, which is governed by national regulations. Hence, there are sometimes fundamental discrepancies in the approach to certain issues.
These organisations have resulted in courses being run to a very high standard.
We invite you to take a look at what our company has to offer!